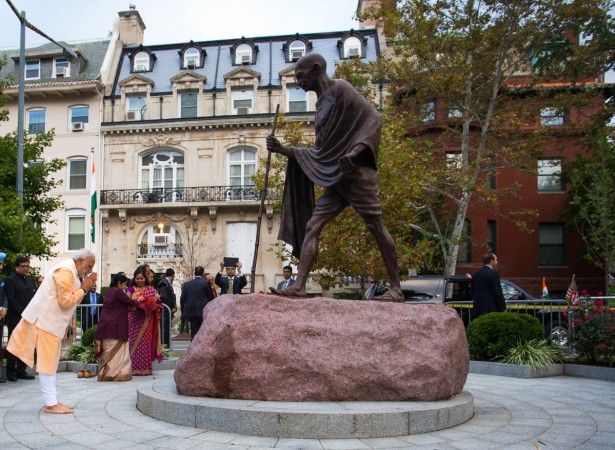 A statue of Mahatma Gandhi will stand proud at London's Parliament Square, next to the one of UK's wartime prime minister Winston Churchill, who had once famously ridiculed the Indian leader.
Here are ten interesting facts about the statue that will be unveiled on Saturday by British Prime Minister David Cameron in the presence of India's Finance Minister Arun Jaitley.
The Gandhi statue will be the first of any Indian at the venue, and also the first ever of a person who has never held a public office.
More than a million pounds came in as donations to the Gandhi Statue Memorial Trust in just six months for putting up the statue at the iconic square.
The entire cost of the project went beyond £1 million.
At nine-feet tall, the bronze statue of India's independence leader will be lower than the others that stand on the famous square 'to reflect the fact that Gandhi considered himself a man of the people', according to the Trust, Reuters reported.
The fact that Gandhi's statue will stand close to that of Churchill's is seen as ironic, given that the latter had openly expressed his dislike for the Indian freedom leader. He had once called Gandhi "a seditious fakir of a type well known in the East, striding half-naked up the steps of the Viceregal Palace, while he is still organizing and conducting a defiant campaign of civil disobedience, to parley on equal terms with the representative of the King-Emperor."
The statue, designed by British sculptor Philip Jackson, shows Gandhi in the traditional dhoti and a shawl with his hands clasped, and is said to be inspired by his photographs taken outside the British Prime Minsiter's office on 10 Downing Street in 1931, according to the BBC.
The unveiling of the statue will mark the 100th anniversary of Gandhi's return to India from South Africa.
Accompanying Gandhi's statue will be those of former US President Abraham Lincoln and former South African President Nelson Mandela.
The plans for the statue were announced by Chancellor George Osborne and Leader of the House of Commons William Hague in July 2014, when they paid a visit to the site where Gandhi was assassinated in New Delhi.]
The statue is said to be symbolic of Indo-UK ties. "The statue in Parliament Square not only marks his huge importance in the history of both our countries, but will enrich the firm bond of friendship between the world's oldest democracy and its largest," Cameron said.