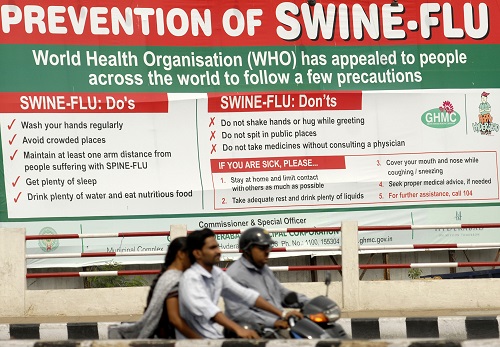 The swine flu epidemic continued in Delhi and Hyderabad this week with more people testing positive for the deadly disease. The national capital reported four new cases on Monday, while six people tested positive for swine flu in Hyderabad.
Delhi has, so far, reported a total of nine cases this year. The new cases were reported from Saket, Dwarka, Jor Bagh and New Delhi. The patients include three men and a woman, aged 70, 37, 58 and 30, respectively. The woman is admitted to Safdarjung Hospital, while the men are undergoing treatment in different private hospitals, The Times of India reported.
Health minister JP Nadda, who discussed the situation with health officials from different departments, said that the current H1N1 influenza cases were seasonal and will disappear after winter.
Urging people not to panic, Nadda has ordered the central and state governments to get sufficient stocks of the antiviral drug oseltamivir and protective equipment for healthcare workers.
Nadda also recommended some simple steps to ensure hygiene, including covering the mouth while coughing and sneezing , cleaning the hands with soap and staying away from people who exhibit symptoms of the disease.
In Telangana, six fresh cases of H1N1 were reported on Monday. The five cases from Hyderabad involve a two-year-old girl from Asifnagar, a 54-year-old man, a 48-year-old man from Errum Manzil, a six-month-old baby boy from Himayatnagar and a pregnant woman from Hyderabad. A 47-year-old man from Kadapa has also been tested positive for the virus, The New Indian Express reported.
In December, the disease claimed three lives in Hyderabad. The victims included a 25-year-old new mom and a 42-year-old man from Ranga Reddy district.
In the same month, a 40-year-old Tamil woman died while undergoing treatment for swine flu at private hospital in Coimbatore.
Swine flu is contracted through exposure to contaminated droplets, when a sick person coughs, sneezes or talks.