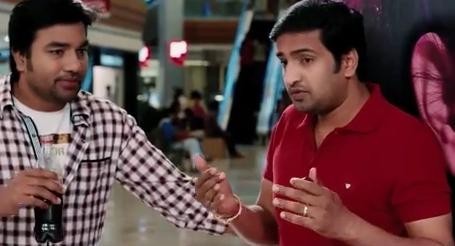 Shiva-Santhanm's Romantic-comedy entertainer "Ya Yaa" has received mixed, but mostly negative reviews from film critics.
"Ya Yaa" revolves around two friends - Ramarajan (Mirchi Siva) and Rajkiran (Santhanam). They are named after the cinema actors as their parents are their big fans, but for reasons unknown Ramarajan and Rajkiran assume names of Dhoni and Sehwag, respectively.
Dhoni is in search of a government job, despite knowing that he is unlikely to get it. He and Sehwag spend their time roaming round the streets with friends.
Dhoni falls in love with Seetha (Dhansika). When he appears in an interview, he hugs and expresses his love to local councillor (Devadarshini) believing that she is Seetha. Dhoni apologises to her, but the councilor falls in love with him and wants to get married.
Does she succeed in marrying Dhoni? Is Sehwag a real friend he appears to be? All these questions are answered as the film progresses.
"Kadhal" Sandhya makes a comeback in "Ya Yaa" as a police constable. "Powerstar" Sreenivasan appears in a cameo.
"Ya Yaa" is directed by debutant I Rajasekaran, a former associate of director M. Rajesh and the film's music is composed by Vijay Ebenezer.
Here is what the critics have to say about "Ya Yaa"
S Saraswathi of rediff says, "The story completely lacks direction and just seems to drift from one scene to another, without following any logic. The scenes lack life and energy and the performances are average at best."
Speaking about the performances of the lead actors, Saraswathi says, "Even Santhanam, who is usually quite reliable, has given a lacklustre performance. He comes across more as a lover than a friend. Usually a very spontaneous actor, he does not seem to be very comfortable in his role as a lover."
"Mirchi Siva too fails to make any impact; his deadpan dialogue delivery has become quite repetitive and boring."
Prashanth Reddy of Desimartini says, "I don't know if any of you people have had the misfortune of experiencing this little film called "Onbadhula Guru". I bring it up because "Ya Yaa" is almost as bad as that film. This is especially troubling when you consider the fact that this film stars two of the industry's most bankable comedy actors. The material is so worthless and stale that Santhanam, despite getting an equal billing to Shiva, struggles to provide at least one uninhibited laugh."
Behindwoods Review Board says, "The audiences watch Shiva's films purely for the comedy and this film could have done with some more gags, especially since it features Santhanam too, but instead it stretches itself into love and betrayal segments that hamper the proceedings."
Verdict: Shiva-Santhanam's film fails to deliver.