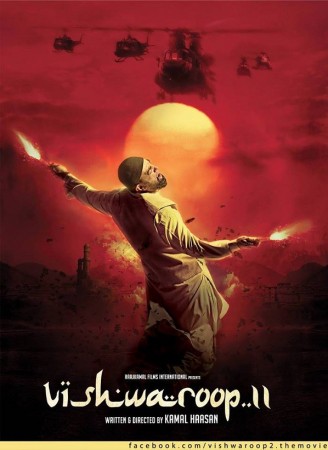 "Vishwaroopam 2" will focus more on romantic and emotional aspects, says veteran actor Kamal Haasan.
Speaking about the film at the International Indian Film Academy Awards (IIFA) event in Macau, Kamal said that the second part will be a sequel as well as a prequel and will focus on the emotional and romantic quotient, according to Press Trust of India (PTI).
The actor unveiled the first look poster of "Vishwaroopam 2" at the awards event. He said that he had written the spy thriller film in two parts to give a complete story to the audience. The Tamil actor stated that he is not making "Vishwaroopam 2" for publicity and is confident of its success.
"I don't make film for publicity rather I want my film to be enjoyed by my audience. Generally, people wait for a year and then decide a film's sequel. But, I was sure from the beginning that I will bring the second part too. 'Vishwaroopam 2' is not my arrogance rather it is my confidence," Haasan told PTI.
The first part of the espionage story was embroiled in controversy with some Muslim organisations leading the Tamil Nadu government to ban the film. The issue affected Kamal financially, who had pledged his house to make the multi-crore project.
Upset over the ban, Kamal even threatened to leave the country saying that he has lost faith in the TN government. However, the issue was later resolved after the actor arrived at a compromise with the Muslim groups. "Vishwaroopam" was released two weeks later and received massive response from film buffs. It grossed more than ₹150 crores at the worldwide box office.
The team of "Vishwaroopam 2" is working at a brisk pace to complete the film, which is expected to release this year. The original cast members including Pooja Kumar, Andrea and Rahul Bose have been retained in the second part as well. Yesteryear Bollywood actress Waheeda Rahman and Anant Mahadevan are new additions to the film.