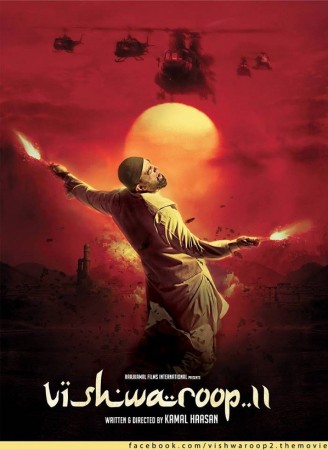 The trailer of Kamal Haasan's "Vishwaroopam 2" is likely to be released on 7 November, which happens to be the actor's birthday.
"Vishwaroopam 2" trailer was expected to release earlier but was delayed as there was more editing work to be done.
Kamal had launched "Vishwaroopam" trailer in Auro 3D on his birthday last year. If everything goes according to plan, fans will get to see "Vishwaroopam 2" trailer on his birthday this year as well.
The spy-thriller flick, a sequel to "Vishwaroopam", is written and directed by Kamal Haasan. Most of the original cast, including Kamal, Pooja Kumar, Shekhar Kapur, Andrea Jeremiah and Rahul Bose, has been retained. Veteran Bollywood actress Waheeda Rehman will be playing Kamal's mother in the sequel, produced by Venu Ravichandran.
"Vishwaroopam 2" shooting has been completed and the film's team is now busy with the post production work. While "Vishwaroopam" was shot extensively in foreign locales, including the United States and Canada, the sequel is mostly canned in India. The film was expected to be released on 22 November but, according to the latest buzz, the thriller might now hit the screens only in January 2014. However, there has been no official confirmation on the same.
Interestingly, "Vishwaroopam" was also released in January last year. The film was embroiled in a controversy, which delayed its release. Following a compromise, the Kamal starrer hit the screens and went on to become a big box office success. Whether "Vishwaroopam 2" will achieve similar success is something we need to wait and see.