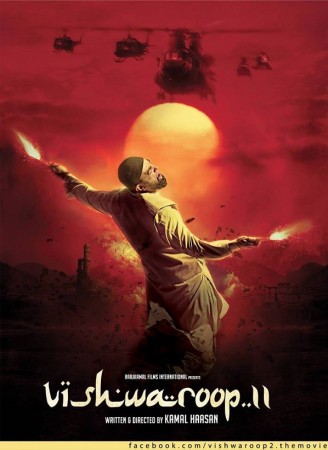 Versatile actor Kamal Haasan is gearing up for his next big release - "Vishwaroopam 2"
The actor recently wished his fans Happy New Year through a short video and also provided a sneak-peek into the making of "Vishwaroopam 2." To watch the video, click HERE.
In the video Kamal says: "Happy New year friends. I'm looking forward to premiering Vishwaroopam 2 in 2014 to you. I can't tell you the date yet but it'll be soon. I hope you enjoy it much better than you did 'Vishwaroopam 1.' I did. Thank you."
The shooting of "Vishwaroopam 2" has been completed and the post-production work is now going on in full swing. The film was expected to release in 2013 but the post-production work has delayed the process. Though the sequel is confirmed to release in 2014, the exact date is yet to be revealed. According to reports, the film might hit screens in February. However, an official confirmation from Kamal is still awaited.
Fans are eagerly waiting to see the film as it stars Kamal in the lead role. Moreover, the first part of the film - "Vishwaroopam" - was a big hit at the box office. The film was appreciated for its technical brilliance and Kamal's performance. The stupendous success of "Vishwaroopam" has increased the expectations on the sequel. According to Kamal, "Vishwaroopam 2" will be bigger and better than its prequel. But it remains to be seen if the film will repeat the success achieved by "Vishwaroopam."
Written and directed by Kamal, "Vishwaroopam 2" also has Pooja Kumar, Andrea Jeremiah, Shekar Kapur, Rahul Bose, Waheeda Rahman and Anant Mahadevan in pivotal roles.
While "Vishwaroopam" was mostly set in foreign locales, the sequel is set in India. According to reports, the film will be high on emotional content - there is a mother-son angle.
"Vishwaroopam 2" will have music by Ghibran, while cinematography will be handled by Sanu John Vargesse and Shamdat Sainudeen. Editing will be done by Mahesh Naryananan. Details about the film's trailer launch and audio release is yet to be revealed.