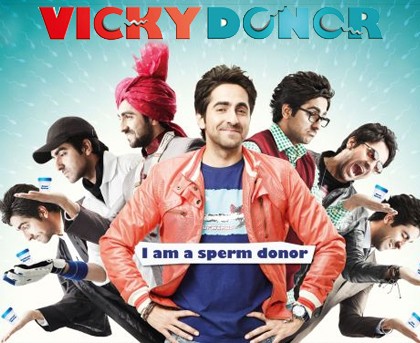 Lately, something that has been missing in Bollywood movies is simply "good comedy" or rather "natural comedy." When one is forced to smile when the character slips and falls because of a banana peel, that cannot be termed comedy anymore. It is innate and soul-stirring wit and humour that makes the difference. As simply as it can be said, "Vicky Donor" gives you "true comedy", a laugh riot for two whole hours!
Ayushmann Khorana's debut film, "Vicky Donor", comes as a pleasant surprise. Based on a never-before-attempted theme in Hindi cinema, the movie deals with the story of a sperm donor. A lazy Punjabi boy, Ayushmann is lured into being a sperm donor by a doctor who runs an infertility clinic. The doctor, played magnificently by Annu Kapoor, is an expert in the field and is in search of a right sperm for his childless patients. Humour flows in when his patients demand sperms that will give them an Aishwarya Rai or a Dhoni. The classic dialogue of "cricketer ho toh desh ke liye khelega or paise bhi kama lega [a cricketer will play for the nation as well as make money]" sounded very true from a couple's perspective who is deciding the career of their child before even he is born.
Ayushmann's life changes when his sperms are found to be matching the criteria searched by the doctor. One cannot help laughing seeing the ways chosen by the doctor to convince Ayushmann to enter the profession. Yaami Gautam makes a beautiful debut in the movie as Ayushmann's love and later wife. The plot takes its twists and turns when Ayushmann gets married and his wife and family get to know about his profession.
It is really hard to find a negative point in the movie except for the fact that the language was at times "hard core Punjabi." If one is not very familiar with the language, there might be situations where one needs to figure out the verbal comedy. But the smooth transition between the scenes and the way the characters have dealt smartly with their parts, will let one go past the language barrier. Another interesting aspect is the cross-cultural differences that have been made the subject of comedy. The Punjabi-Bengali cultural differences have been manipulated to become the subject of natural comedy. For example, the Punjabi cannot accept the Bengali eating fish while the Bengali has issues with Punjabi women drinking alcohol!
Director Shoojit Sircar has done a good job. The music directors have done a good job capturing the essence of Punjabi tone for the songs in the movie. In a nutshell, "Vicky Donor" is a complete family entertainer and worth a watch!
Director: Shoojit Sircar
Cast: Ayushmann Khurana, Yaami Gautam, Annu Kapoor
Music Director: Abhishek-Akshay, Donn-Bann, Rochak Kohli and Ayushmann