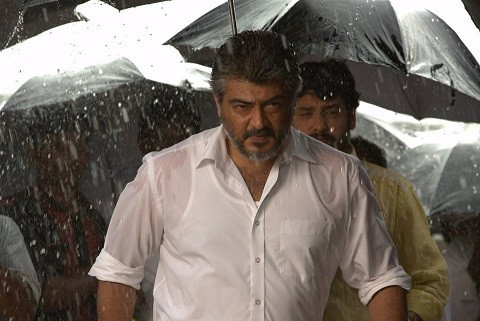 Ajith's "Veerudokkade," the Telugu dubbed version of Tamil film "Veeram," has earned decent reviews from critics.
Directed by Siva, "Veerudokkade" story revolves around Veerendra (Ajith) and his four brothers. The five brothers are good at heart, but deal violence with violence.
Veerendra is fond of his brothers and detests marriage as he feels that if a girl enters his family, she might try to split him from his brothers.
However, his brothers want him to get hitched as they want to marry their lovers and settle in life. The brothers along with their lawyer Bail Penchalayya (Santhanam) plan some ideas to make him fall in love with Gomati Devi (Tamannaah), who comes to their village to restore old statues in temples.
Veerendra falls in love with Gomati Devi and she too reciprocates his love. But, when she comes to know about his violent acts, she leaves him and goes to her hometown. For the sake of his love, Veerendra decides to mend his ways and reaches to his lover's place. Upon reaching there, he realises that his lover's family is in danger as convict Nagaraju (Atul Kulkarni) is targeting them.
Who is Nagaraju? Why he is targeting Gomathi Devi and his family? How Veerendra saves his lover's family? All these are answered as the film progresses towards the end.
Here is the review roundup of "Veerudokkade"
According to 123telugu, "Major and the only highlight of the film is Ajith. He is a one man army, and carries the whole film on his shoulders. Ajith looks stylish in his village attire and is particularly good in the action episodes."
"Though Tamannaah does not have a meaty role, she looks beautiful and impresses most of the times. Santhanam's comedy in the first half is very good and lightens the film."
According to Cinejosh, "Director Siva's ability in kicking up the heroism was superbly shown in pre interval train fight which is the best portion in film. In fact, the screenplay was deliberately made sluggish with lots of comedy in first half just to take the trajectory up in pre interval block."
"Vetri's camera work is top notch when it comes to canning the songs and catching the punch in action scenes. Kasi Vishwanathan's editing is adequate work. Coming to Devi Sri Prasad's music, although songs are not so catchy, it's the BGM which stood on big advantages for making "Veerudokkade" a thorough entertainer. Production values of Vijaya Production and Bheemavaram Talkies are satisfactory."
Andhraboxoffice website says that "Veerudokkade" has a "predictable story line with massy narration. The film, set in village locales make for a decent watch for its target audience, largely thanks to its action episodes, punch dialogues and power packed scenes. The entertainment quotient is mixed adequately too."
According to APHerald, "Director Siva has strictly made "Veerudokkade" for the Ajith fans and it works in his favour. On the whole, if you are to watch these kind of flicks such as these ones, swtich off your brain to leave the logical thinking at work to enjoy."
The Tamil version "Veeram" did fantastic business at the box office. It remains to be seen if the Telugu dubbed version will be able to impress the audience and perform well.