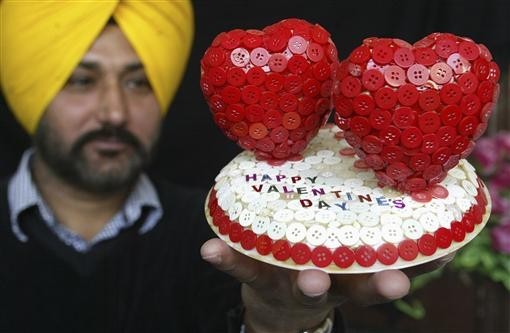 A right wing Hindu group, Hindu Janajagruti Samiti (HJS), on Monday said that celebration of Valentine's Day leads to rape and other sexual assault crimes.
Manoj Solanki, state convener of HJS, announced they will distribute pamphlets in various educational institutions and at public places, like railway stations and bus-stands, "demonstrating the ill effects of Valentine's Day". He added that blindly following western style will also lead to such attacks.
"Since the Bharatiya youth is turning towards indulgence by blindly following westerners, it has been noticed that the sale of contraceptives peaks on this day in cities such as Mumbai and Pune. This leads to a rise in incidents of rapes and other atrocities," Solanki told IANS.
Blaming "westernisation" as cause for such crimes, Vishwa Hindu Parishad (VHP) International Advisor Ashok Singhal also asserted that the western model of lifestyle was responsible for the increasing rate of sexual crimes against women in India.
"This western model is alarming. What is happening is we have imbibed the US. We have lost all the values we had in cities," PTI quoted Singhal as saying.
Earlier, RSS chief Mohan Bhagwat said that rapes happen only in urban parts of the nation and not in rural India. "Such crimes hardly take place in 'Bharat', but they occur frequently in 'India'," he said
"You go to villages and forests of the country and there will be no such incidents of gang-rape or sex crimes. They are prevalent in some urban belts. Besides new legislation, Indian ethos and attitude towards women should be revisited in the context of ancient Indian values," he added.
While RSS leader held westernisation responsible for rape incidents, the notorious Khap Panchayat blamed fast food as one the causes.
"To my understanding, consumption of fast food contributes to such incidents. Chowmein leads to hormonal imbalance evoking an urge to indulge in such acts. You also know the impact of chowmein, which is a spicy food, on our body. Hence, our elders also advised to consume light and nutritious food," Jitender Chhatar, thua khap panchayat leader and resident of Jind's Chhatar village said.
The list of bizarre comments on rapes in India does not end here. When few blamed "western style" and "fast food" for the rising rape rate in India, others hold victims responsible for the crimes.
After the death the of the Delhi gang-rape victim, self proclaimed godman Asaram Bapu had stirred a controversy by saying that the victim was to be blamed equally as he attackers. He suggested that the victim should have acknowledged the offenders as brothers and begged them not to hurt her.
"Only 5-6 people are not the culprits. The victim daughter is as guilty as her rapists... She should have called the culprits brothers and begged before them to stop... This could have saved her dignity and life," said Asaram Bapu.