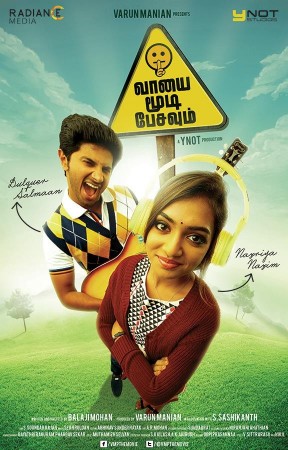 Dulquer Salmaan-Nazriya Nazim starrer "Vaayai Moodi Pesavum" (VMP) has received positive reviews from critics.
"Vaayai Moodi Pesavum" is a romantic comedy entertainer, directed by Balaji Mohan of "Kadhalil Sodhappuvadhu Eppadi" fame. The film marks the Tamil acting debut of Dulquer, son of noted Malayalam actor Mammootty.
The rom-com is set in an imaginary hill station named Panimalai. Aravind (Dulquer) is a smart sales representative who is a gifted speaker. With his talent to convince people, he can easily make them buy his products. Anjana (Nazriya) is a doctor, who is reserved and talks less. There are other characters in Panimalai, including Vidhya ("Roja" girl Madhoo Bala) who plays the role of Nazriya's stepmom and a writer, Nuclear star Boomesh (John Vijay), drinkers association head Ravi (Robo Shankar), health minister Sundaralingam and landlord (Vinu Chakravarthi).
Unfortunately, a strange disease called "dumb flu" (imaginary) spreads across the hill station, causing several people to lose their voice. What impact the flu has on the people of Panimalai forms the crux of the story.
Critics have appreciated the film, calling it a feel-good entertainer that will make the audience leave the cinema theatres with a smile. They have lauded director Balaji Mohan's efforts for making an honest, original attempt like "Vaayai Moodi Pesavum". The performances of the film's pivotal actors, including Dulquer and Nazriya, have also won accolades from critics.
"Dulquer Salmaan, son of actor Mammootty, has pulled off his role in style. Be it in the first half, when he has to keep talking throughout, or in the second half, when he has to keep his mouth shut, he is mighty impressive," said Sai Shyam of iflickz website.
"Nazriya has a nerdy look attached to her throughout the film, which could be because of the role she has taken up in the film. She is refreshing in her role. Madhoo of 'Roja' fame has not lost her charisma one bit. She scores in the few scenes and kudos to the director, for bringing her back into Tamil films," he added.
According to Behindwoods Review Board: "The unsuspecting humor element of the film, particularly in the first half is a huge strength while the sudden twist of fate creates a surreal tension of a different kind to the audience in the second half, though the humor quotient is still maintained high with a series of charades that draw some excellent performances from its actors."
Critics also had only positive things to say about the technical aspects of the film. "Soundararajan's cinematography gives the chill look to the film and Sean Roldon's music and songs suits the genre well. The second half of the movie is having lot of scope for BGM and Sean Roldon's Maatra Paravai and Udaiguren conveys the emotions very well. Debut editor Abhinav Sundar Nayak's editing is flawless and he is a welcome addition to the promising feature film editors of Kollywood," said S Rajasekar of Cinemalead.
Verdict: Feel good entertainer worth watching