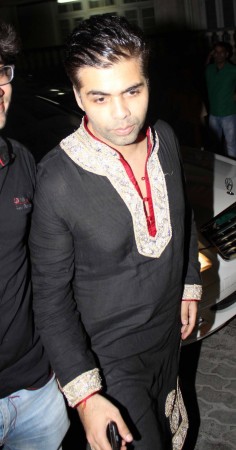 The release date of Dharma Productions' "Ungli" has been postponed yet again.
The film, starring Emraan Hashmi, Kangana Ranaut and Sanjay Dutt, was initially set to release in 2013 but has been delayed numerous times now.
Producer Karan Johar was understood to be irked with the film's original editor Shirish Kunder, who is considered as one of the major reasons for the film's delay.
Kunder was initially roped in to edit "Ungli" but his work failed to impress Johar, who then hired a replacement in Deepa Bhatia, who had to re-edit the film entirely.
"Karan was not happy with what Shirish Kunder, who was initially editing the film, had cut. So, Deepa Bhatia who has worked on films like 'Rock On!', 'Taare Zameen Par' and 'My Name is Khan', was summoned to re-edit the film from scratch. Shirish anyway was more interested in producing a film whose script is almost ready," Mumbai Mirror quoted a source.
Kunder already has a tough equation with Johar's once good friend Shah Rukh Khan, post the infamous party incident back in 2012, where Khan had slapped Kunder for unnecessary provocation. And now, it seems Kunder's relationship with Johar also appears to have soured.
The rate at which Kunder is falling out from Bollywood A-listers' good books is quite alarming. He is not in good terms with Akshay Kumar as well, after the duo delivered the epic dud "Joker" (2012).
Meanwhile, film's director Rensil D'Silva revealed that Sanjay Dutt's arrest and Johar's wish to include two new songs in the film have also delayed the release of "Ungli".
"A chain of events have contributed to the delay. Yes, first, it was the Sanju factor. Then, Shirish Kunder walked out and Deepa Bhatia walked in to edit the film. But let me tell you that we have made a really good film. Once we are done with recording and shooting the two new songs, we shall announce a fresh release date," D'Silva told the tabloid.