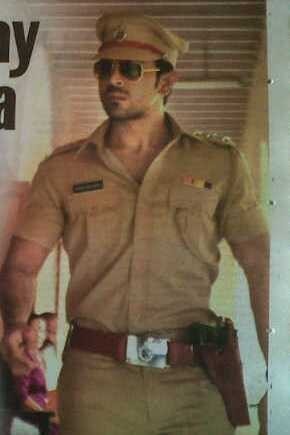 Ram Charan's "Thoofan", the Telugu version of Hindi film "Zanjeer", has received mixed reviews from film critics.
When classic films are remade, comparisons are bound to happen. But critics feel that it is better to watch "Thoofan" as a separate film and not compare with the cult classic - "Zanjeer" (1970s film starring Amitabh Bachchan).
Director Apoorva Lakhia has retained the plot and the character names as in the original. But in the remake, the hero takes on the oil mafia.
ACP Vijay Khanna (Ram Charan), an honest, righteous cop, gets transferred 22 times in five years as he always clashes with criminals in power. In one incident, he beats up a minister in Hyderabad and gets transferred to Mumbai. He is asked to investigate the death of deputy collector called Sathe, who is set ablaze by the oil mafia for capturing their illegal activities on phone.
Mala (Priyanka Chopra), an NRI who comes to India to attend her friend's marriage, is a witness to the murder. ACP Vijay doe not allow her to go back to her country as she is the witness and makes arrangements for her to stay in his house.
Vijay makes friends with Sher Khan (Srihari), a pathan, to seek the identity of the murderers. He also gets help from crime reporter Jay Dev (Tanikella Bharani). Based on his information, Vijay finds that the kingpin of the oil mafia is Teja (Prakash Raj). He confronts Teja but gets suspended. In the end, Vijay kills Teja who happens to have murdered his parents several years ago.
Here is what the critics have to say about "Thoofan"
Radhika Rajamani of Rediff says, "Thoofan's main drawback is the screenplay. To make it fast paced, it seems a lot of loopholes were not plugged properly. The action sequences are well orchestrated. The production values are above average given the scale and magnitude of the film."
"The director Apoorva Lakhia has tried to pay a worthy tribute to the original, but his film does not have the same impact. He's given the Telugu film a more Hindi touch, treatment, and feel."
Sushil Rao of TheTimes of India says, "Director Apoorva Lakhia's intention probably was to give Ram Charan Tej a larger than life size image. He succeeds. Never mind your feeble protests at having to watch violence all through the movie - if the protagonist who declares that it is a 'one man show' and is happy doing his job, you are there to just sit back and stay glued to the screen - remember you paid for it."
"Prakash Raj and Srihari who get meaty roles help stretch the film and Priyanka Chopra's role is a cake-walk for her."
Y.Sunita Chowdhary of The Hindu says, "Thoofan is synonymous with rage, if only Ram Charan had shown more intensity and fire in his eyes, he would have passed muster. The film has been sharply edited and cinematography is reasonably good. Dialogues don't elevate the story and the lack of emotion becomes very visible as and when a flashback of a traumatic childhood appears intermittently, the cop appears cool, callous and not driven to score a point."