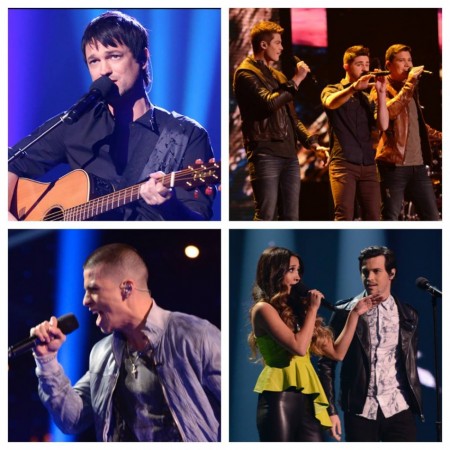 "The X Factor" USA 2013 has reached the penultimate stage with four remaining contestants to perform two songs each on Wednesday night in front of judges Simon Cowell, Demi Lovato, Kelly Rowland and Paulina Rubio for America's vote.
Ellona Santiago and Rion Paige from Demi Lovato's "Girls" category were eliminated from the show last week. The former was eliminated directly after getting least votes from American audience, while the latter was sent packing after judges Demi, Kelly Rowland, Paulina Rubio, and Simon Cowell voted 3-1 in favour of Carlito Olivero.
The semi finalists - Alex & Sierra, Carlito Olivero, Jeff Gutt and Restless Road - will perform for the last time before the grand finale next week. The viewers were given the chance to choose one of the two songs each contestant will sing. The songs chosen through the show's official Twitter account have been revealed.
Alex & Sierra, who sang A Great Big World's "Say Something" last week, will sing Of Monsters and Men's "Little Talks," while Carlito Olivero will sing Justin Bieber's "Boyfriend". Jeff Gutt will sing "Hallelujah" by Jeff Buckley, and Restless Road will sing Luke Bryan's "That's My Kind of Night". However, the second song to be performed by the finalists is under suspense.
Wednesday's live performance will be followed by elimination round on Thursday, which will witness Jennifer Nettles and Enrique Iglesias perform live. One of the four remaining contestants will be sent home based on America's vote, while the three finalists will perform again next week before the winner is announced.