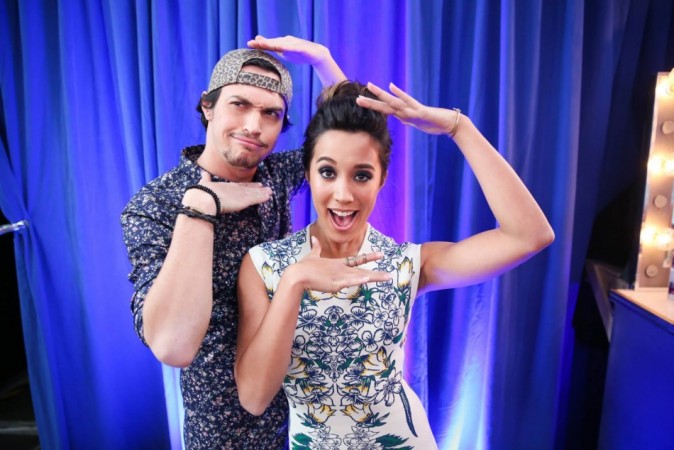 What do you expect the finalists of "The X Factor" USA 2013 to perform on the last live performance night? Something challenging and powerful to woo the audience, right? The contestants tried to do just that but Alex & Sierra seem to have run out of songs as they ended up singing two songs they rendered in the earlier episodes.
Carlito Olivero sang Shontelle's "Impossible" and Santana's "Maria Maria", while Jeff Gutt rendered Aerosmith's "Dream On" and Radiohead's "Creep" on the penultimate night. However, Alex & Sierra chose two songs they had performed earlier.
Alex & Sierra started off the night with Ed Sheeran's "Give Me Love". It was a very good rendition but it sounded old as they rendered it during the live shows. Their second solo was "Say Something" by A Great Big World, but sadly, they had performed it too, a fortnight ago.
Fans of the lovebirds must have been expecting them to perform a new song that showcased their talent but that wish didn't come true. They chose the 'tried and tested formula' in the finals. They had received praises for the rendition of the songs in their earlier episodes. There is no doubt that they sang very well again, but they should have come out of their comfort zone and delivered something new, maybe sing at least one new song.
Proir to the final live performance, Alex & Sierra were the favorites to win this year's title according to a betting site. Betting odds on Bovada has put Alex & Sierra on top with a 5/4 odds in their favor, while Jeff stands at 9/2 and Carlito at 13/1.
They moved the audience and the judges alike with their emotional rendition of Of Monsters and Men's "Little Talks" and "Gravity" by Sara Bareilles last week. In fact, their rendition of "Gravity" moved Demi Lovato to tears, and even Simon Cowell could believe his ears. "You are not performing songs, you are making records every time you come out here," he had said.
However, the rendition of "tried and tested" songs on Wednesday could affect their chances of winning the title.