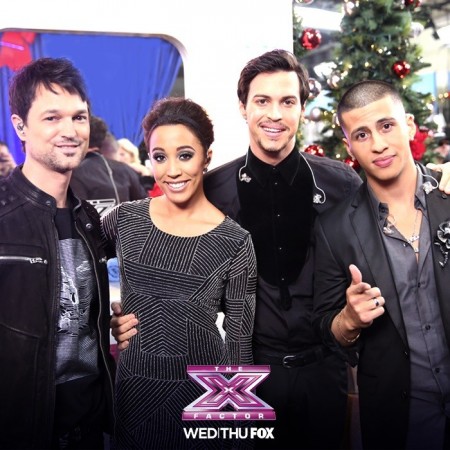 The big night is here. "The X Factor" USA 2013 finale is set to begin in a few hours and host Mario Lopez will announce the winner of this season. It could be Jeff Gutt, Carlito Olivero or Alex & Sierra, as it's the Americans who will decide the new champion.
"The X Factor" finale will be aired live at 8/7c (6:30 am IST, Friday) on Fox television channel on Thursday night.
It is reported that the finalists will sing a Christmas song each. Carlito Olivero will sing "Christmas (Baby Please Come Home)", Alex & Sierra will sing "All I Want for Christmas Is You", and Jeff Gutt will sing "O Holy Night"
The night will also witness several artists like Mary J. Blige, Leona Lewis, Pitbull, Ke$ha, Lea Michele and One Direction perform.
The finalists - Jeff Gutt, Carlito Olivero or Alex & Sierra - sang three songs each, including a duet with quest artists on Wednesday for America's votes.
Alex & Sierra sang Ed Sheeran's "Give Me Love" and A Great Big World's "Say Something" on Wednesday, earning praises from the mentors. They also performed "Bleeding Love" with Leona Lewis'. Their performance was good, except for the fact that they sang two songs they had sung in the earlier episodes.
Jeff Gutt sang Aerosmith's "Dream On" and Radiohead's "Creep" and managed to impress the audience and the mentors. Public may compare the performance to his last weeks rendition of "Hallelujah" by Jeff Buckley and "Demons" by Imagine Dragons, but the truth is he did a good job on Wednesday.
Carlito Olivero sang Shontelle's "Impossible" and Santana's "Maria Maria" in the finals. He also performed with Prince Royce to Ben E. King's "Stand by Me". He may be the underdog in the competition but he has talent and could pull up a surprise on Thursday.