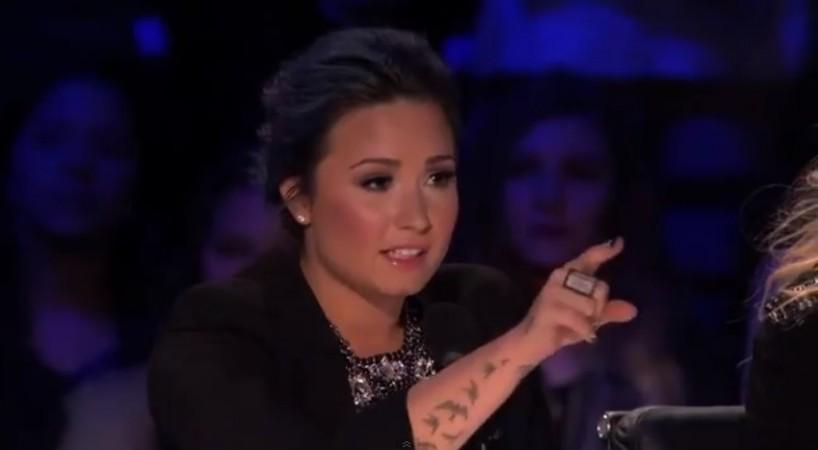 The truth about Demi Lovato's sudden decision to quit as the judge of "The X Factor" USA is still under wraps, but the step has sparked off speculations as to what made her take the drastic step. Now, TMZ has reported that she is furious with the way "X Factor" producers mocked her addiction to drinking.
The 21-year-old "Skyscrapper" singer, who has been fighting alcohol addiction for a quite a while now, was not amused by a skit mocking her addiction, according to TMZ. Host Mario Lopez had earlier shown clips of Demi drinking what looked like alcohol.
Demi announced her decision to leave the show on the final live performance night of the "The X Factor" USA 2013 on Wednesday.
She told BBC that she "started the show being a singer and a musician, and so I'm going to go back to that." "It's been really great but I'm so excited for 2014. I'm going to dedicate it completely and entirely to music, touring and making a new album."
"To avoid speculation. Because of her tour next year it was unlikely she could do that and X factor," Simon Cowell, the brain behind the show, tweeted. "She and I have had our ups and downs but now consider her a true friend. The door will always be open. And thank you Demi. Simon.x."
Throwing up a surprise, Simon had earlier told Hollywood Life that he always knew "she wasn't coming back because she's touring, so I knew that."
Interestingly, Demi Lovato recently told Hollywood Reporter that she would miss Kelly Rowland and Paulina Rubio but didn't mention Simon. "Being able to sit next to Kelly and Paulina and see them twice a week, and also helping mentor the contestants," she said.
It is apparent from the episodes this season that Demi and Simon don't share a good vibe. The duo was known for pulling each other's legs and had openly expressed that they enjoyed it but it's not the same anymore. They have also been seen engaging in ugly arguments a couple of times in the just concluded season. [Read: Simon Tells Demi to Shut Up]