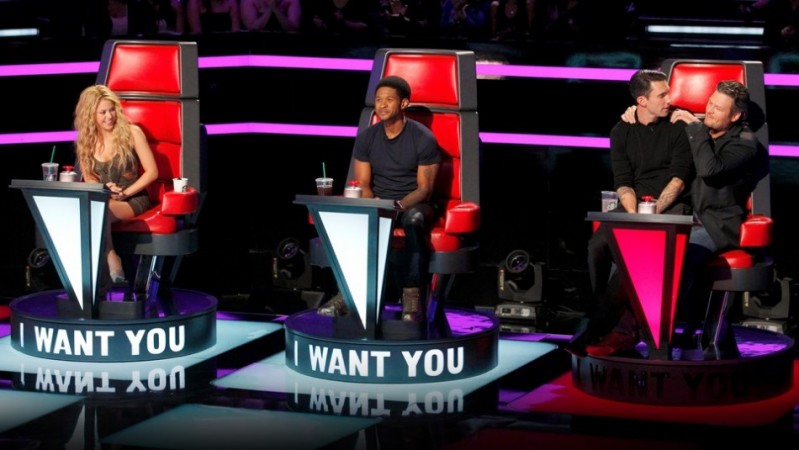 The fifth blind auditions of "The Voice" USA 2014 turned out to be a big loss for Shakira, as she failed to woo most of the contestants to join her team in the penultimate audition on Monday, while her co-judge Blake Shelton managed to expand his team.
Shakira pushed her buttons for as many as seven times on Monday, out of which one was uncontested. Of the six fights with other co-coaches, she managed to woo only one. Blake on the other hand added four more to his team out of which he won three after beating other coaches.
Adam Levine added four more to his team on Monday. Kat Perkins, who sang Fleetwood Mac's "Gold Dust Woman" picked Adam over Shakira and Usher as her coach. The Maroon 5 singer also beat other three coaches to win Josh Kaufman, whose rendition of George Michael's "One More Try" made all the coaches to turn their chairs around. He also pushed his button for Austin Ellis who sang "Drift Away" by Dobie Gray, and Josh Murley who rendered "The Freshman" by The Verve Pipe.
Blake Shelton also added four more to his team in the penultimate auditions. Paula Deanda, who sang "The Way" by Ariana Grande, picked him over Shakira. The country singer also beat Shakira to convince Ria Eaton, who sang "Cups (When I'm Gone)" by Anna Kendrick, to join his team.
Another fight began after Alaska and Madi got Adam and Blake to turn their chairs with their rendition of Civil Wars' "Barton Hollow," however, they joined Team Blake. Cali Tucker, who took "The Voice" stage with "Black Velvet" by Alannah Myles, also convinced Blake to push his button.
After some fierce fight with her co-coaches to win contestants to her team, Shakira finally got Cierra Mickens, who sang Gnarls Barkley's "Crazy," beating Usher and Blake. She also got Ddendyl, who rendered Ben E. King's "Stand By Me", to her team.
Usher wooed Jake Barker, who sang Bruno Mars' "When I Was Your Man" to join his team over Adam and Shakira. He also pushed his button for Tess Boyer, who took The Voice stage with "Wings" by Little Mix.
All the coaches have 11 contestants each in their teams after grueling five auditions. They are expected to turn picky on Tuesday, as they have only one more slot each left to add to their respective teams of 12 members.
Complete List of Contestants:
Team Usher: T.J. Wilkins, Biff Gore, Bria Kelly, Madilyn Paige, Brothers Walker, Tanner James, Melissa Jimenez, Morgan Wallen, Stevie Jo, Jake Barker, Tess Boyer
Team Adam: Dawn & Hawkes, Christina Grimmie, Cary Laine, Delvin Choice, Sam Behymer, Joshua Howard, Patrick Thomson, Kat Perkins, Josh Kaufman, Austin Ellis, Josh Murley
Team Shakira: Kristen Merlin, Jeremy Briggs, Deja Hall, DeShawn Washington, Clarissa Serna, Lindsay Pagano, Emily B, Dani Moz, Music Box, Cierra Mickens, Ddendyl
Team Blake: Jake Worthington, Noah Lis, Ryan Whyte Maloney, Sisaundra Lewis, Megan Ruger, Lexi Luca, Audra McLaughlin, Ria Eaton, Alaska & Madi, Cali Tucker, Paula DeAnda