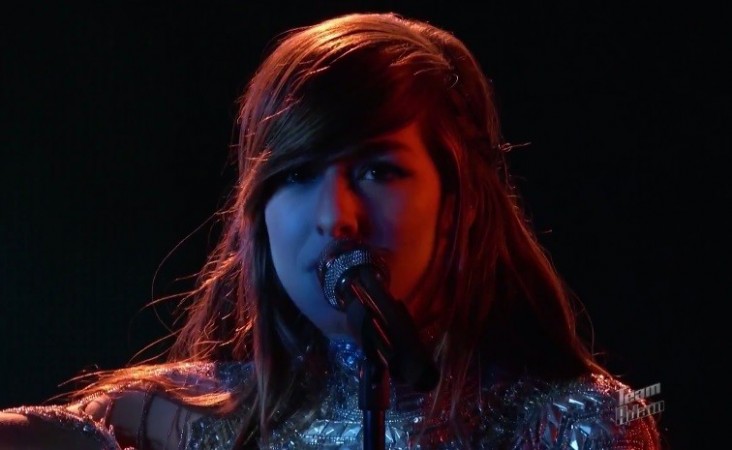 "The Voice" USA 2014 has entered the most exciting part of the show with the live performance having kicked off. The 12 finalists performed live for America's vote on Monday and the results of the episode will be announced on Tuesday.
The elimination episode of "The Voice" will start on Tuesday at 8:00 pm EST on NBC Television (6.30 am IST, Wednesday). Viewers can save of the bottom three through "instant save".
Monday's episode saw top 12 contestants - Audra McLaughlin, Jake Worthington, Sisaundra Lewis, Kristen Merlin, Tess Boyer, Dani Moz, Delvin Choice, Kat Perkins, Christina Grimmie, T.J. Wilkins, Bria Kelly, and Josh Kaufman - perform live.
Bria Kelly of Team Usher sang "Rolling in the Deep" by Adele. It was not a good song choice for her, but she did a reasonably good job. It may not be her best performance, but she received praises from the coaches.
Delvin Choice of Team Adam rendered "Unchained Melody" by The Righteous Brothers. It was not an impressive performance either.
Team Shakira's Dani Moz sang "Just Give Me a Reason" by Pink. It was a good song choice and she did justice to it with a big note towards the end, though she was off at times during her performance.
Audra McLaughlin of Team Blake sang "Angel of the Morning" by Juice Newton. It was a good performance with right dose of emotion and power.
Team Usher's T.J. Wilkins sang "Waiting On the World To Change" by John Mayer. It is a good song, but not an exciting one where one's vocal abilities can be showcased. He rendered it nicely, and that's it. There is nothing extraordinary.
Christina Grimmie of Team Adam sang "Dark Horse" by Katy Perry. It was a great performance and she killed the song with her powerful vocals.
Sisaundra Lewis of Team Blake sang "Don't Let the Sun Go Down on Me" by Elton John. Like last week, she nailed it again this week too.
Team Shakira's Kristen Merlin sang "Stay" by Sugarland. It was a wonderful rendition. Her microphone went off towards the end of her performance, but she didn't dump her spirit and kept on singing till she completes the song.
Kat Perkins of Team Adam performed "Magic Man" by Heart. She not only gave a good show, but also owned the stage.
Team Blake's Jake Worthington sang "Anymore" by Travis Tritt. It wasn't a good performance. The fact that the night saw many contestants stepping up, made his performance underwhelming.
Tess Boyer of Team Shakira sang "I'll Be There For You" by Bon Jovi. It was a good song choice and Tess did justice to the song.
Team Usher's Josh Kaufman sang "Stay With Me" by Sam Smith. He did a reasonably fair job, but it certainly wasn't his best performance.
(Photo Credit: Screenshot from The Voice Official YouTube Video)
(Ed:AJ)