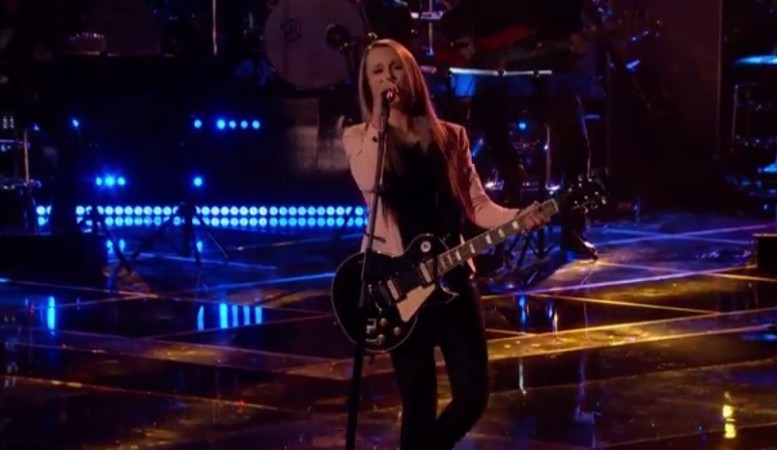 "The Voice" USA 2014 is all set to enter an exciting phase with the Playoff episodes coming to an end after performances from Team Usher on Tuesday. The live rounds will begin next week with the top 12 remaining contestants hitting the stage in an attempt to stay in the competition.
The number of contestants has been narrowed down to just 12 after three grueling Playoff episodes. Coaches - Adam Levine, Blake Shelton, Shakira and Usher - have three contestants each in their teams after two each were sent home during the Playoffs.
Here is complete list of top 12 contestants:
Team Blake: Audra McLaughlin, Jake Worthington, Sisaundra Lewis
Team Shakira: Kristen Merlin, Tess Boyer, Dani Moz
Team Adam: Delvin Choice, Kat Perkins, Christina Grimmie
Team Usher: T.J. Wilkins, Bria Kelly, Josh Kaufman
Tuesday's Playoff episode saw contestants from Team Usher performing to impress their coach, who chose three of them to move to the live rounds and sent home two others.
TJ Wilkins sang "Tell Me Something Good" by Rufus and Chaka Khan in the Playoff. He infused passion into his performance and hit the notes well.
Melissa Jimenez took on the song, "Halo" by Beyonce. It was a good rendition but a little over-the-top at times.
Stevie Jo sang "The Thrill is Gone" by BB King. It was a good rendition, earning praises from his coach, who described him as a courageous singer.
Bria Kelly rendered "Wild Horses" by The Rolling Stones and it was a rocking performance. She is in her own league and her raspy high notes are awesome.
Josh Kaufman sang the song, "It Will Rain" by Bruno Mars. He is a different person once he opens his mouth. His effortless rendition with amazing falsetto and pitch earned the praises of the coaches.
It was not easy for Usher to send away two of the contestants from his team, but he had to. He retained TJ Wilkins, Bria Kelly and Josh Kaufman, while showing the doors to Melissa Jimenez and Stevie Jo.
(Photo Credit: Screenshot from "The Voice" Official YouTube Video)
(Ed :AJ)