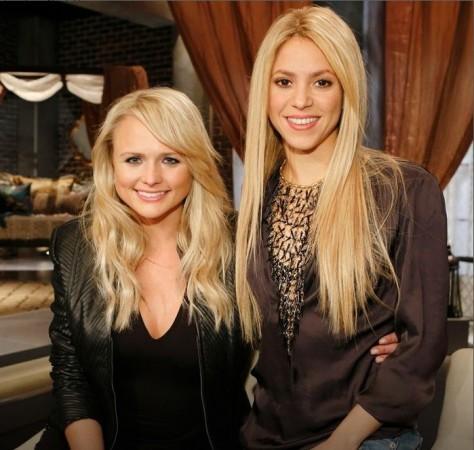 The real competition is set to begin with the blind auditions of "The Voice" USA 2014 coming to an end last week. The selected contestants will be made to compete against each other in the battle round starting on Monday.
The 2-hour battle round episode 1 will start on Monday at 8:00 pm EST on NBC Television (6.30 am IST, Tuesday).
Each team will pair two contestants to compete in the battle rounds. The coaches will select one and the other rejected contestants will be available for steal by other coaches. Team advisors - Aloe Blacc for Team Adam, The Band Perry for Team Blake, Miranda Lambert for Team Shakira, and Jill Scott for Team Usher will help the contestants during the rehearsals.
The coaches can retain only six contestants from their original team and two more can be added from steal.
Here is complete list of the teams:
Team Adam: Dawn & Hawkes, Christina Grimmie, Cary Laine, Delvin Choice, Sam Behymer, Joshua Howard, Patrick Thomson, Kat Perkins, Josh Kaufman, Austin Ellis, Josh Murley, Caleb Elder
Team Blake: Jake Worthington, Noah Lis, Ryan Whyte Maloney, Sisaundra Lewis, Megan Ruger, Lexi Luca, Audra McLaughlin, Ria Eaton, Alaska & Madi, Cali Tucker, Paula DeAnda, Kaleigh Glanton
Team Shakira: Kristen Merlin, Jeremy Briggs, Deja Hall, DeShawn Washington, Clarissa Serna, Lindsay Pagano, Emily B, Dani Moz, Music Box, Cierra Mickens, Ddendyl, Lindsay Bruce
Team Usher: T.J. Wilkins, Biff Gore, Bria Kelly, Madilyn Paige, Brothers Walker, Tanner James, Melissa Jimenez, Morgan Wallen, Stevie Jo, Jake Barker, Tess Boyer, Brittnee Camelle
Blake Shelton added Kaleigh Glanton, who sang "Have You Ever Seen The Rain?" by Creedence Clearwater Revival (CCR), in the final blind audition to fill his team, while Usher wooed Brittnee Camelle who sang "Skyscraper" by Demi Lovato.
Shakira was excited on getting Lindsay Bruce, who sang "Even If It Breaks Your Heart" by Eli Young Band, to her team. Blake and Usher convinced the contestant to join Team Shakira, beating Adam Levine who was keen to have her. Adam finally pushed his button for Caleb Elder, who "Groove Me" by King Floyd, to complete his team.