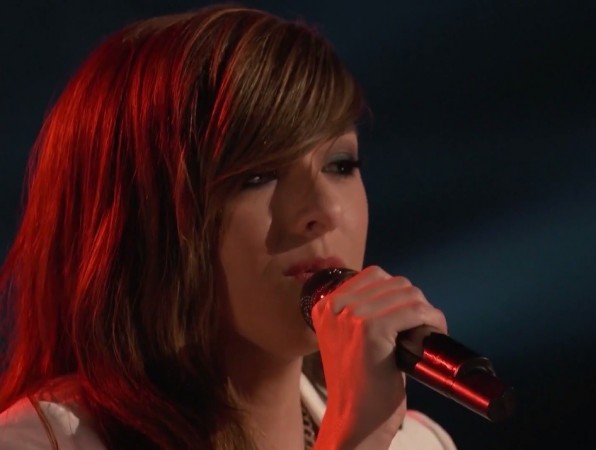 "The Voice" USA season 6 has reached the final stages of the show with several hopefuls being sent home over the weeks. The remaining top eight contestants will perform live for America's vote on Monday.
The live performance episode will be telecast at 8:00 pm EST, Monday on NBC Television (6.30 am IST, Tuesday). The fate of the contestants will be decided by the public based on their performance during the live show.
Coaches Adam Levine and Blake Shelton still have three contestants each, while Shakira and Usher have only one each left in the competition. Bria Kelly from Team Usher and Tess Boyer from Team Shakira bid goodbye to "The Voice" in the last episode after failing to impress America in the live round.
Here is list of contestants remaining in the competition:
Christina Grimmie: The YouTube sensation from Team Adam stunned the audience with a wonderful rendition of Drake's "Hold On, We're Going Home." In fact, the performance shot up to #4 on iTunes last week.
Audra McLaughlin: She is from Team Blake. She sang Reba McEntire's "You Lie" in the live round last week and it was a good performance.
Kristen Merlin: The girl from Team Shakira not only impressed the audience, but also the coaches with her rendition of Passenger's "Let Her Go" last week.
Kat Perkins: She is from Team Adam. She received praises for her rendition of Fleetwod Mac's "Landslide" during last week's live round, but was placed in the bottom three along with Tess and Bria. However, her performance of Grace Potter & The Nocturnals' "Paris (Ooh La La)" helped her to get through to the next round.
Jake Worthington: He is from Team Blake. He sang George Strait's "Run" last week. There was nothing new in his performance, but America voted him to the next round.
Josh Kaufman: He is the only contestant left in the competition from Team Usher. He sang Kenny Loggins' "This Is It" last week, and America thought he deserved to stay in the show.
Sisaundra Lewis: The powerhouse from Team Blake proved one more time that there is something special in her that audience should look forward to. She won the hearts of the coaches last week with her rendition of Steve Perry's "Oh Sherrie".
Delvin Choice: He is from Team Adam. He took on Gary Clark Jr.'s "Bright Lights" during the live round last week and impressed the coaches.
(Image credit: Screenshot from The Voice Official YouTube Video)
(Ed:AJ)