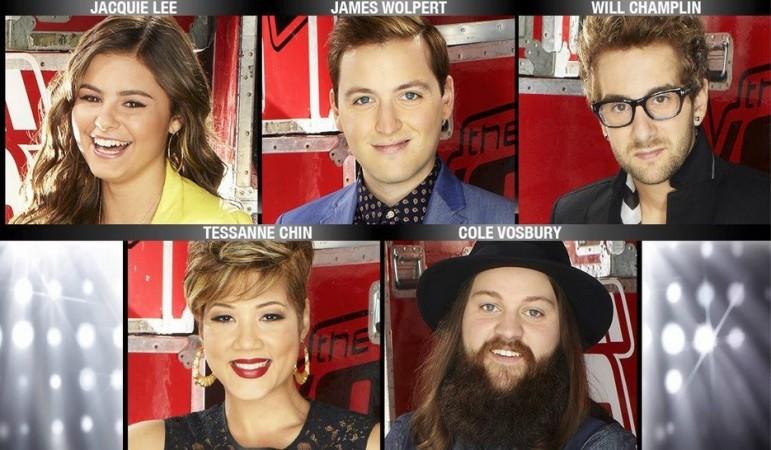 "The Voice" season 5 semi-final round was expected to showcase powerful performances, but it turned out to be like the earlier episodes where the remaining contestants failed to impress.
The semi-finalists - Will Champlin, Tessanne Chin, James Wolpert, Jacquie Lee and Cole Vosbury - performed before coaches Adam Levine, Blake Shelton, CeeLo Green and Christina Aguilera on Monday for America's vote.
Monday's episode kicked off with the remaining top five contestants performing "Best Day of My Life" by American Authors. Then Team Adam's James Wolpert, who was saved by Twitter users last week, began his performance of the penultimate week with "With or Without You" by U2. Adam and Blake were all praise for his performance though he seemed to lack an edge.
Team Adam's Will Champlin was the second performer of the night with his song "Carry On" by Fun. His performance was fine though the song choice might not be perfect. He received more accolades from coaches for his smile than his performance.
Team Christina's only remaining contestant, Jacquie Lee, sang the song "Angel" by Sarah McLachlan. She hit the notes perfectly and her performance was good as usual. The one thing that was lacking in her rendition was the emotional quotient of the song. However, her coach Christina and CeeLo were all praise for her performance.
Cole Vosbury from Team Blake was the fourth performer for the night. He sang the song, "Shameless" by Garth Brooks (written by Billy Joel). His performance was not better than the previous weeks', but his coach Blake and former coach CeeLo thought it was a good rendition.
The last performer of the night, Team Adam's Tessanne Chin, belted out the song "Bridge Over Troubled Water" by Simon and Garfunkel. It seemed like "The Voice" had saved the best for the last, as her emotional-filled performance stood out - probably a rendition that will take her to the finale next week.
In a nutshell, the semi-finals performances were good but not at all extraordinary, not even up to the expectations. The top five finalists are no doubt talented but most of them failed to offer anything special in their penultimate rendition - perhaps the worst semi-finals performance of "The Voice". Tessanne was the only exception on Monday; she sang her heart out, which could bring viewers to tears.