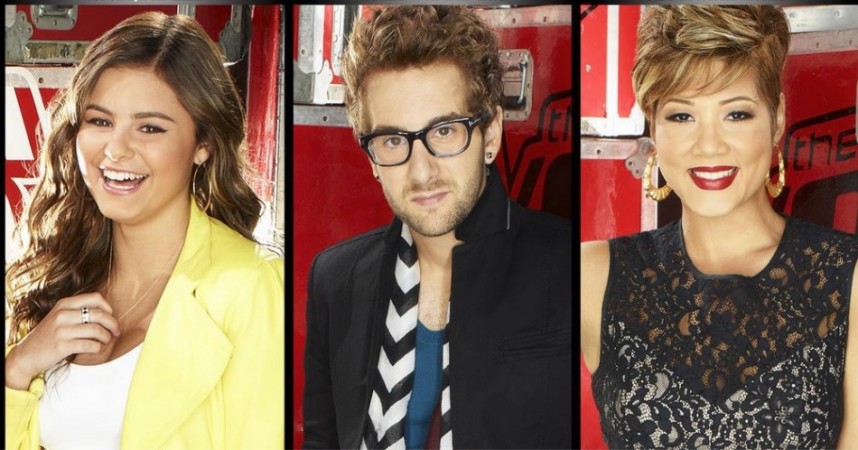 "The Voice" season 5 has reached the final stage of the show with the three finalists - Tessanne Chin, Will Champlin, and Jacquie Lee - performing live one last time on Monday before the winner of the season is announced a day later.
The two-day grand finale of the show will begin on Monday at 8:00 pm EST (Monday) on NBC Television (6.30 am IST Tuesday).
Coach Adam Levine still has two contestants - Tessanne Chin and Will Champlin - in the competition, and Christina Aguilera has Jacquie Lee. Three-time winning coach Blake Shelton and CeeLo Green are officially out of the competition after their contestants were eliminated from the show.
Tessanne has emerged as one the front-runners for the title following her consistent performance this season. Her emotional rendition of "Bridge Over Troubled Water" by Simon and Garfunkel in the semi-finals stole the hearts of the coaches and audience alike. Her cover of the song hit number 1 in the iTunes chart and Blake thinks she could be the winner judging by her powerful performance last week. Her coach Adam Levine was beaming with pride after her performance. Expectation from her will be sky high after the breathtaking outing last week.
Jacquie rendered "Angel" by Sarah McLachlan in the semi-finals. It was a good performance with full of power. Her coach Christina praised her for the performance and so too CeeLo Green. Her pitch was incredible but she seems to be short on emotion, which she is expected to incorporate in her last performance.
Will Champlin of Team Adam has been a dark horse. He kept bouncing back stronger every time he faces the threat of being eliminated from the show. The man, who almost failed to make it the live rounds, has come this far and it won't come as a surprise if he changes the course of the show with a dream performance on Monday. One can expect the unexpected from him.
None of the finalists will be eliminated on Monday but their performance will play a huge part in determining the winner of the show. The results will be announced on Tuesday's episode.