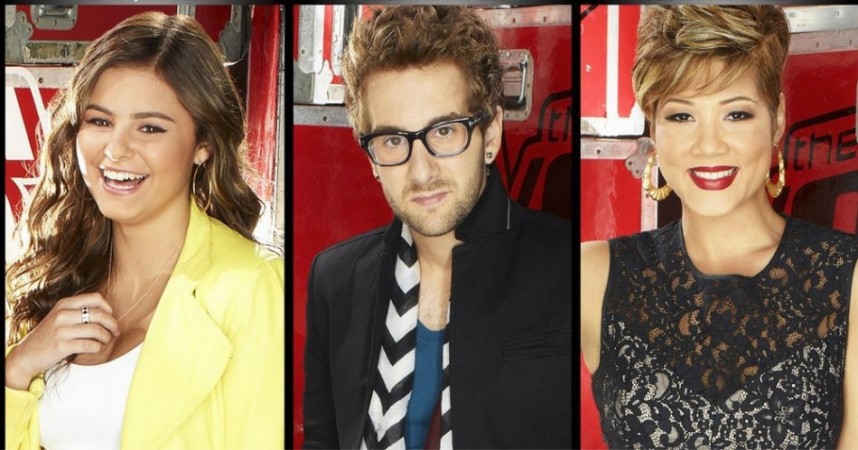 The winner of "The Voice" season 5 will be declared only on Tuesday but speculations, on who among the three finalists would win the title, have been doing the rounds ever since the semi-final episode last week. And reports say it's going to be either Tessanne Chin or Jacquie Lee.
Three contestants - Tessanne Chin and Will Champlin from Team Adam, and Jacquie Lee from Team Christina - have made it to the finals. They will perform one last time on Monday, before the winner is announced on Tuesday.
Interestingly, a poll conducted by Wetpaint has revealed that 49 percent of participants think Tessanne will win, while 33 percent think Jacquie will triumph. Will received the least vote - 18 percent - according to the poll.
Tessanne from Team Adam is a hot favorites in the prediction polls. The Jamaican singer hit the top spot in the iTunes chart with her cover version of "Bridge Over Troubled Water" in the top 5 performance.
Moreover, the show's three-time winning coach Blake Shelton stated Tessanne is his favorite to win the title. "And if you go by this week's performance, everything points to Tessanne (Chin) right now, so that wouldn't surprise me to see (her win)," he had earlier told Today.
However, betting odds on Bovada has put teenage singer Jacquie on top with a 2/1 odds in her favor, while Tessanne stands at 12/5 and Will at 17/4.
Besides poll results and betting odds, one finalist that has stood out in last week's live performance was Tessanne. Her emotional rendition of "Bridge Over Troubled Water" by Simon and Garfunkel in the semi-finals seemed to have placed her as the front-runner for the title. The song hit number 1 in the iTunes chart.
Jacquie sang "Angel" by Sarah McLachlan in the semi-finals, earning praises from her coach and CeeLo Green. She hit the pitch perfectly, though some thought her performance lacked emotion.
Will seems to be the underdog at the moment but he has a habit of pulling up surprises several times this season, and hence, cannot be written off. His rendition of Carry On" by Fun in the semi-finals received praise from coaches.
So, who do you think will win the title? We will have a clearer picture only after Monday's performance!