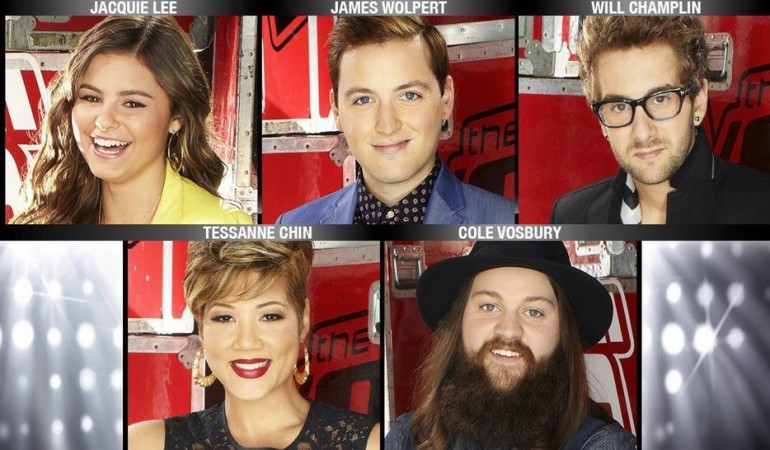 'The Voice' season 5 is heading towards the end with the semi-finals set to kick off on Monday night. The top five remaining contestants will perform live in front of coaches Adam Levine, Blake Shelton, CeeLo Green and Christina Aguilera, before one of them is eliminated on Tuesday's episode.
The semi-finalists - Will Champlin, Tessanne Chin, James Wolpert, Jacquie Lee and Cole Vosbury - will perform a song each on Monday for America's votes. Based on their live performances, four will proceed to the grand finale next week, while one with the least votes will be sent home.
The show will be telecast at 8:00 pm EST (Monday) on NBC Television (6.30 am IST Tuesday).
Team Christina's Matthew Schuler, one of the most talented and consistent performers of the show, was eliminated last week. Other contestants seemed to have outperformed him in the live performance rounds, as the show progressed.
The fate of the remaining five contestants will depend on their performances on Monday. They have not revealed the songs they are going to render but are expected to belt out some powerful numbers to woo the Americans.
It may be recalled that last week saw some powerful performances from the remaining six contestants. Here is a recap of songs performed by five contestants on their way to the semi-finals.
Team Christina's Jacquie Lee wooed the audience with her rendition of "Cry Baby" by Janis Joplin and "The Voice Within" by Aguilera last week. Team Blake's Cole Vosbury sang "Rich Girl" by Hall and Oates and "Better Man" by James Morrison, winning the hearts of the judges.
Last week also saw Team Adam's Tessanne Chin performing "Redemption Song" by Bob Marley and "Unconditionally" by Katy Perry. Will Champlin performed "A Change Is Gonna Come" by Sam Cooke and "Hey Brother" by Avicii, while James Wolpert sang "Fell In Love With A Girl" by The White Stripes" and "I'd Do Anything For Love" by Meatloaf.