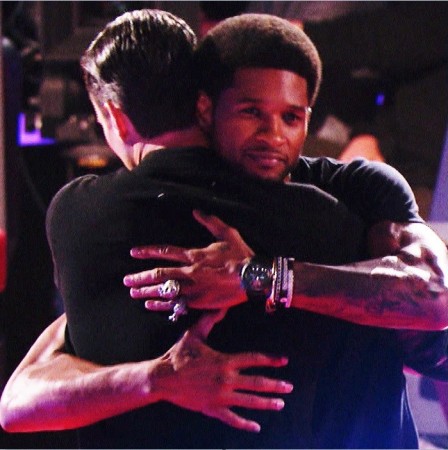 "The Voice USA" 2014 entered its second week of blind auditions on Monday and it was a good start with the judges turning their chairs for 11 candidates. The night saw Usher getting his first country singer of the season.
Judges - Adam Levine, Shakira, Usher and Blake Shelton - continued to pull each other's legs into the second week. Blake jokingly said that he didn't want to mess up Usher's face by pushing the button after the latter turned for his first country contestant. Shakira pulled up her socks by not only comparing herself to Alexander the Great, but also interpreting fellow judge Adam's tattoo.
Ryan Whyte Maloney got all the chairs turn with his rendition of "Lights" by Journey. He picked Blake as his coach.
DeShawn Washington won the heart of Shakira with his version of "Twistin' The Night Away" by Sam Cooke. Three of the judges didn't turn their chairs, but one was enough to take him to the next round.
Sam Behymer sang the song, "Royals" by Lorde and won the hearts of Adam and Usher. She joined Team Adam.
Brothers Cody Walker and Clinton Walker rendered "Keep Me In Mind" by Zac Brown Band. The identical twin brothers have country voice, but Blake seemed to be not very keen on them. Usher pushed the button and got them.
The next candidate was Clarissa Serna, who got all the chairs turn with her rendition of The Cranberries' "Zombie". She picked Shakira as her coach.
Lindsay Pagano sang "Lady Marmalade" by Labelle and got Shakira to push the button. Later, Joshua Howard joined Team Adam and Tanner James joined Team Usher.
Melissa Jimenez sang "If I Aint Got You" by Alicia Keys and got the attention of Usher and Shakira. She chose Usher as her coach.
Patrick Thomson got Blake and Adam push their buttons with his rendition of "Can't You See" by The Marshall Tucker Band. He picked Adam as his coach.
The next candiadate up was 44-year-old Sisaundra Lewis and got all the four chairs turn with her rendition of "Aint No Way" by Aretha Franklin. She joined Team Blake.
Here is the Complete List of Contestants After Three Episodes:
Team Adam: Dawn & Hawkes, Christina Grimmie, Cary Laine, Delvin Choice, Sam Behymer, Joshua Howard, and Patrick Thomson
Team Usher: T.J. Wilkins, Biff Gore, Bria Kelly, Madilyn Paige, Brothers Walker, Tanner James, and Melissa Jimenez
Team Shakira: Kristen Merlin, Jeremy Briggs, Deja Hall, DeShawn Washington, Clarissa Serna, and Lindsay Pagano
Team Blake: Jake Worthington, Noah Lis, Ryan Whyte Maloney, and Sisaundra Lewis