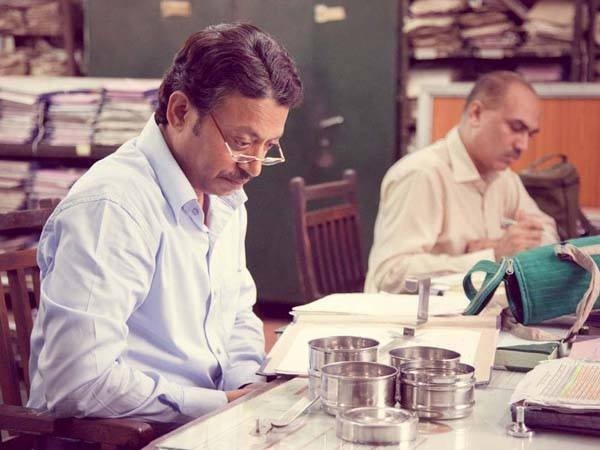 "The Lunch Box", starring National Award Winning actor Irrfan Khan and newcomer Nimrat Kaur, has opened to rave reviews at the Indian box office.
Film critics said that the epistolary romantic flick is one of the best films that was ever released. Before it hit screens in India, the film was screened at several film festivals, including 2013 Cannes Film Festival and Toronto International Film Festival.
The film, written and directed by Ritesh Batra, has received standing ovation and also won Critics Week Viewers Choice Award. The film also won the best film award at the World Cinema Amsterdam Film Festival.
Co-produced by Anurag Kashyap and Guneet Monga, the film is about a government employee in Mumbai who receives the wrong lunchbox, courtesy dabbawalla, leading to an bitterweet romance him and a lonely housewife.
Apart from the lead characters, the film also features Nawazuddin Siddiqui, Bharati Achrekar in supporting roles.
Check out the critics' reviews here:
Shubhra Gupta of Indian Express said: "If it hadn't been for the occasional flatness, and a couple of predictable notes, there would have been no flaws in this dabba. I also found Ila's mother's (Lillete Dubey) segment, included solely to underline another kind of vacantness, a little forced. But these are tiny niggles in this film that gets the rest of it so right. Batra's characters are a delight. They may be of Mumbai, infused with intense desi flavours, but can inhabit any part of the world. You want to take them home, sit them down at your table, and savour them, one mouthful at a time."
Saibal Chatterjee of NDTV said: "Literally speaking, this lunchbox has no meat. Moreover, its masala mix is markedly understated. But no worries, it offers much that you can dig your teeth into.
"A strikingly original, idiosyncratic and charming love story, The Lunchbox dismantles the established structures of the genre in ways that are at once startling and effective. An immaculate screenplay provides the sturdy under-wiring on which Batra constructs his subtle drama about lonely souls in a teeming metropolis seeking to connect with each other across a vast divide.
"Batra captures that spirit with an unfailing and unsentimental eye, and gives the real-life dabbawalas and their songs a central place in the screenplay. The three central performances are terrific, with Irrfan and Nawazuddin striking up a duet that is absolutely spectacular.
"Gorge into it and savour its lingering aftertaste. The Lunchbox holds riches that aren't likely to be forgotten in a hurry."
Srijana Mitra Das of The Times of India said: "It is the story of meeting via eating. It is a love-story - and a love-letter to Mumbai, to trains that go dhak-dhak, to dabbawalas and rain, to love and life, sugar and spice, the despair and hope that mark every heart.
"This movie is held together by delicate performances. Irrfan leads the way, underplayed, yet lasting, like a cardamom between your lips.
"Its finesse qualifies this charmer as India's potential entry to the Oscars, The Lunchbox an unusual banquet, raising a bitter-sweet toast to life.
"Note: You may not like this movie if you don't like softly spiced whimsical tales - or food."
Harshada Rege of DNA said: "Indian cinema ought to be proud of moments like these. The Lunchbox has been screened at various international festivals even before it's release in India. But beyond the adulation of the world press, the best thing about this bittersweet movie is its desi flavour that gives it a universal appeal.
"Debutant director Ritesh Batra has a firm grip over the narrative. The director brings alive an era when love letters played a crucial role... probably something that people who are busy romancing over SMSes won't know about.
"At times, however, the scenes seem a little too long, but be patient and you won't have any complaints. The fact that it has garnered so much acclaim even before its release in India is something no one can ignore. This one may not please those looking for a masala flick, but is more than your money's worth.
"But ensure that you eat well before you head for the movie, or else be prepared to deal with the hunger pangs everytime Irrfan opens The Lunchbox."
Raja Sen of Rediff.com said: "It is a simple story with unanimous appeal, told with unshowy efficacy, and yet The Lunchbox is the most fascinating film to come out of Bombay in a very, very long time. In many ways -- not least because it is an astonishing directorial debut -- The Lunchbox is this generation's Masoom. The Mumbai dabbawala is a miracle, a human cog with clockwork precision who operates, it seems, well outside Mumbai's haphazard universe, and yet fuels the mercenaries shovelling coal into the city's ever-open maw.
"It is a film of multiple pleasures -- small ones and overwhelming ones and exquisitely crafted ones -- layered one on top of the other, with something for everyone, and so, so much for the cinematic glutton."
Taran Adarsh of Bollywood Hungama said: "A well-told old-fashioned romance, THE LUNCHBOX gracefully unknots the trials, tribulations, fears and hopes of everyday people sans the glamour that the city of Mumbai has become synonymous with. It also brings back memories of the days when people used to communicate through hand-written letters... and cell phones and emails were unheard of.
"Debutant director Ritesh Batra does a magnificent job of encapsulating the interminable restlessness of a city that is constantly on the go. While doing so, he expertly gives voice to the fears that constantly plague the minds of individuals though the exchange of hand-written letters, besides infusing that certain soul, warmth and compassion in the narrative.
"On the whole, THE LUNCHBOX is a standout film, a sumptuous treat that's sure to be relished by connoisseurs of cinema. A film with a big heart, it makes you realize that you can unearth contentment and pleasure even if you board the wrong train. Easily one of the finest films to come out of India."