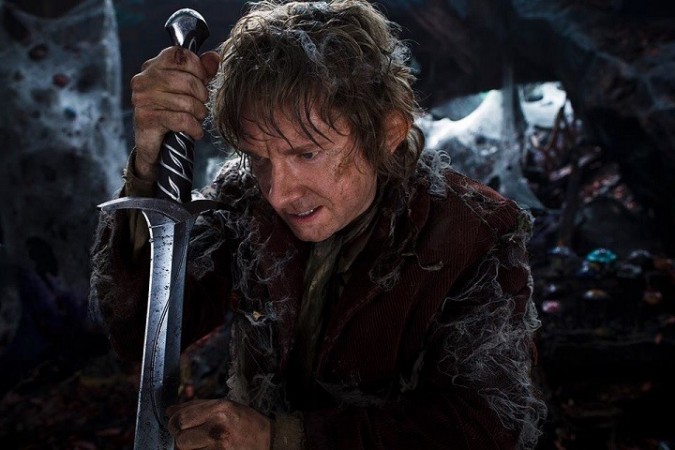 The making of "The Hobbit" trilogy has already cost Peter Jackson and his team over half a billion dollars, which is double the amount spent on the director's trademark series - "The Lord of the Rings" trilogy, according to Variety.
The new trilogy, with its second film "The Hobbit: The Desolation of Smaug" which is slated to release in December, has cost an astounding $561 million so far. This was revealed from the financial documents filed online by New Zealand's Companies Office that placed the cost at NZ$676 million.
This amount is inclusive of the 266 days of filming completed last year and does not account for the additional "pick-up" shoots that were carried out in New Zealand this year.
This figure will ape up as the shooting continues for "The Hobbit: The Desolation of Smaug" and its follow-up "The Hobbit: There and Back Again" which will release next year. The post-production work for both these films will further increase the budget.
However, this might not be a concern for Jackson and distributers Warner Bros since the first Hobbit film, "The Hobbit: An Unexpected Journey" (2012), went on to gross over $1 billion at the worldwide box office and was also nominated for three Academy Awards and BAFTAs.
The budget of the "Hobbit" trilogy cannot be the same as "The Lord of the Rings" trilogy, since the latter was made between 1999 and 2000. The Rings series had cost a total of $281 million.
The report also noted that this is one of the most expensive film productions, where two or more films are shot simultaneously.
Also, Jackson's decision to shoot in both 3D and at 48 frames per second (rather than the standard 24fps) is understood to have led to "significant expense". The director wants to give fans and audiences better clarity and a more immersive experience with the relatively new 48 frames technique.
"The Hobbit" trilogy and "The Lord of the Rings" series are both based on the works of author, JRR Tolkien.
"The Hobbit: The Desolation of Smaug" will hit screens on 13 December and the last film in the series will release in December 2014.
(YouTube Courtesy: Warner Bros. Pictures)