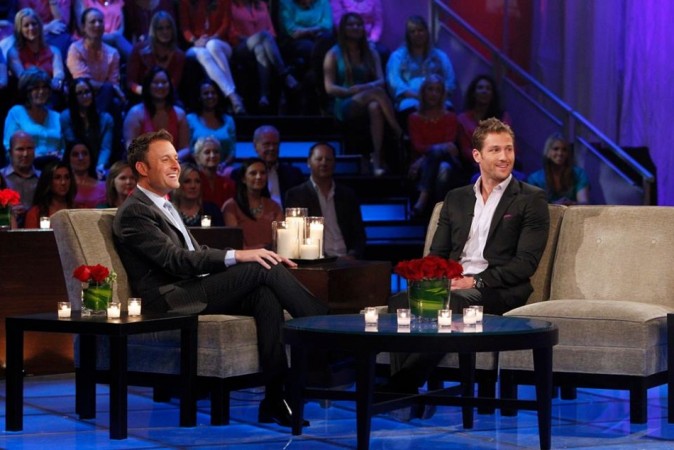 Venezuelan footballer Juan Pablo is nearing the end of his journey to find love on the dating reality show "The Bachelor," and now, his only task is to choose between Clare and Nikki.
But before that happens, all the women who were either dumped by Pablo or who chose to leave him, will appear on the show one last time to voice out their feelings about the bachelor.
And, if the spoilers are any indication, Pablo does not score points with most of them. It appears that almost all of his 17 former bachelorettes hate him and they weren't shy to explain the reasons behind their hatred.
Andi Dorfman, who walked out of the show after her overnight date with Pablo went kaput, says in "Women Tells All" that she couldn't wait to get out of the fantasy suite.
Andi tells "The Bachelor" host Chris Harrison that she was close to falling in love with Pablo before their overnight date, but everything changed when she was exposed to a different side of the single dad.
"I'm all for honesty and saying your true feelings, but there's some things that you don't say to someone if you care about them," she says, according to People. "You don't tell them that you just had an overnight date, you don't tell them that they barely made it here."
As previously reported, Pablo allegedly told Andi during their overnight date that he had considered sending her home in the earlier days of the show. To make matters worse, Pablo started name dropping and spoke about his date night with Clare.
Sharleen Joynt, who also walked out of the show, says in the upcoming episode that she "often has sleepless nights" thinking about her time on the show.
Spoilers also indicate that the Pablo will be questioned about his intention behind meeting Renee Oteri's son Ben and then eliminating her.
"It definitely makes it harder for me because I saw what life could be like with me and Ben and someone else that I really cared about," Renee said after she was eliminated. "I want to have a family and I want Ben to see what love is. That's why I came here, to see if I could find love, and I did."
Viewers will not be feeling bad for Renee for long, as the "Women Tell All" episode reveals that she is already dating someone. But nothing much is known about her current love.
Pablo's former bachelorettes will also bash him for calling homosexuals "perverts" and using his daughter Camila as an excuse to send contestants home.
Monday's episode will see Pablo in the hot seat trying to explain his way out of all the accusations thrown at him.
The episode will air on March 3 at 8 p.m (EDT) on ABC.