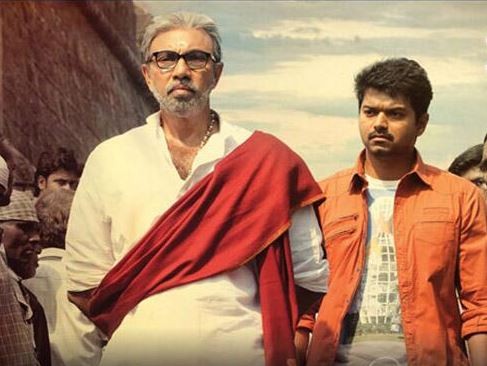 The delay in the release of "Thalaivaa" has largely helped Shah Rukh Khan's "Chennai Express" in Tamil Nadu.
"Thalaivaa" was released on 9 August in several Indian states as well as in key overseas markets like the US and the UK. The Vijay starrer has been performing extremely well in these regions.
However, the film's release has been stalled in its home state Tamil Nadu for reasons that remain unclear, allowing "Chennai Express" to perform well at the Tamil Nadu box office.
"Chennai Express", which is on a record-smashing spree, is doing good business in the southern state, with the film reportedly being the first choice among audience than other Tamil and Hollywood releases.
The SRK starrer is topping the Chennai box office followed by Hollywood release "The Conjuring". Bharath's "Ainthu Ainthu Ainthu" which was released five days ahead of the original release date has taken the third spot, despite good reviews from film critics.
Chennai Box Office
1. Chennai Express
2. The Conjuring
3. Ainthu Ainthu Ainthu
4. Pattathu Yaanai
5. Singam 2
"Chennai Express" is also doing good business at the Kerala box office as well. According to senior film journalist Sreedhar Pillai, "Chennai Express" earned ₹4.5 crore in the Tamil Nadu-Kerala box office during the first four days including Thursday's (8 August) paid previews.
"#ChennaiExpress - has netted an awesome Rs 4.5 Cr in Tamil Nadu-Kerala -Aug 9 to 11 + Paid Previews. Distributor Share = Rs 2.25 Cr (approx)," Sreedhar Pillai tweeted.
The romantic-action entertainer has also struck gold in overseas markets, despite facing strong competition from "Thalaivaa".
"Thalaivaa" has embarked on an impressive start in key foreign markets. However, its collections are not as good as "Chennai Express".
The film's release is still uncertain in Tamil Nadu, where Vijay has a massive fan base. It seems the actor's fans need to wait a little longer for the film's release.