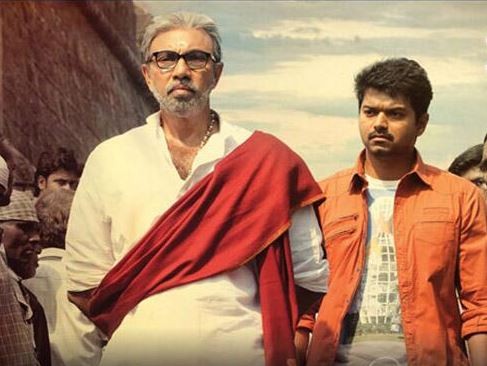 Problems never seem to end for "Thalaivaa", its makers have landed in trouble just a few days after the film was cleared for release in Tamil Nadu.
It is reported that director Ramesh Selvam has filed a complaint against "Thalaivaa" producer Chandraprakash Jain for allegedly failing to fulfill his commitments.
According to Ramesh, "Thalaivaa" producer reportedly asked him to delay the release of his film, "Kalavaram", which has Sathyaraj playing a pivotal role, so as to get more theatres for "Thalaivaa."
In return, Chandraprakash is said to have told Ramesh that he would purchase and distribute his film under his Sri Mishri Productions banner. Ramesh alleged that the "Thalaivaa" producer has backed out of his commitments and is not even willing to meet him and "Kalavaram" producer when they tried to approach him with an agreement for the film's purchase. Following this, Ramesh has reportedly filed a complaint against Chandraprakash.
However, Chandraprakash Jain's son Sunil has denied such reports.
"A simple verification with the commissioner's office would reveal that no such FIR has been filed. This matter is being sensationalized." He also said that their production banner will not be associated with "Kalavaram"," Sunil told Behindwoods.
It may be recalled that "Thalaivaa" was mired in a controversy, which delayed the film's release in Tamil Nadu. During the release issue, the distraught producer told the media that he would hit the streets if the film was not released soon.
Later, the issues were sorted out and the film hit the screens 11 days after the original release.