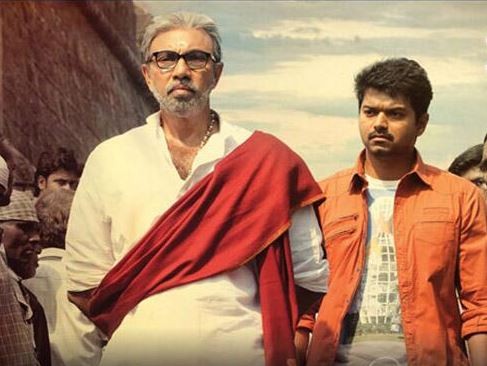 Vijay's "Thalaivaa" has opened to an overwhelming response in Kerala.
"Thalaivaa" was released in India (except Tamil Nadu and Pondicherry) as well as overseas markets on 9 August.
The film has not just impressed the critics, but also the audience. "Thalaivaa" opened to a thunderous start on Friday in Kerala minting ₹1.12 crore from 120 odd screens, according to senior film journalist Sreedhar Pillai.
The film's collections are expected to increase on Saturday (10 August) and Sunday (11 August).
Meanwhile, there is still uncertainty over the release of "Thalaivaa" in Tamil Nadu. Producer Chandraprakash Jain has remained non-committal over "Thalaivaa" release date.
He told The Hindu newspaper on Saturday night that details on the film's release are being worked out. However, he did not reveal any probable date for the film's release.
"Thalaivaa" was scheduled to release on 9 August in about 450 screens in Tamil Nadu. The delay in the release has disappointed Vijay's fans. One die-hard fan in Coimbatore took the extreme step and committed suicide as Vijay's film did not get released on the slated date.
Following this, Vijay sent an official statement requesting his fans to stay calm and wait for "Thalaivaa" release. "I understand you are all disappointed. I'm also hearing that certain fans of mine are engaging themselves in few unpleasant activities. That is not good for us and I'm requesting you to stay calm and patient," Vijay said in the statement, according to The Times of India.
The actor's loss is now a gain to Shah Rukh Khan's "Chennai Express" and Bharath's "Ainthu Ainthu Ainthu." Due to the delay in "Thalaivaa", "Chennai Express" has been well received in several theatres across Tamil Nadu.
"Ainthu Ainthu Ainthu" (555), which was slated for release on Independence Day, has moved ahead and was released on 10 August. Many multiplexes and single screen theatres in Chennai have now allotted "Thalaivaa" slots to Bharath and Shah Rukh Khan's films.