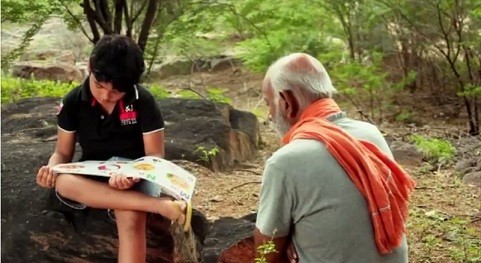 Veteran director Balu Mahendra's "Thalaimuraigal" has received positive feedback from critics.
"Thalaimuraigal" revolves around the bonding between a grandfather and his grandson. Child artiste Karthick plays the role of Aadithya (Aadhi), while Balu Mahendra appears as the boy's grandfather Subbu Pillai. Actors Sashikumar and Ramya Shankar don the role of Aadhi's parents, while director-cum-actor Sasikumar makes a cameo appearance in the film.
Sashikumar marries a catholic girl Ramya against the wishes of his father Balu Mahendra, a retired Tamil professor who is orthodox and fanatical about caste and religion. The couple is estranged from him for 12 years until sudden turn of events lead them to return to the village where Balu Mahendra lives. The rest of the story is about how Aadhi bonds with his grandfather.
Critics have appreciated the performances of the main actors as well as the child artiste. They have termed "Thalaimuraigal" as a touching, emotional film and one of Balu Mahendra's best creations. Composer Ilayaraja's music has also won accolades from the critics.
Here is the review roundup of "Thalaimuraigal"
According to Indiaglitz, "A pleasant silence exists all through the film. The silences give room for more emotions. The dialogues are very simple yet relatable. The entire story is very accessible. It does not paint a picture perfect world instead it kindles emotions in all of us by giving us a walk through the reality of growing old and growing up.
"We are the same audiences who witness violence but hear even a small wound puts us in discomfort. It shows us the meaning of unexploited and pure relationships. It takes us back to our roots and makes us realize the importance of our cultural values and traditions. It teaches us how to find joy and happiness in little things of our daily life."
According to Behindwoods Review Board, "Thalaimuraigal is a celebration of simple things that we have left behind in our pursuit of presumably larger things. The pace is very languid as though we are on a holiday in our native village. Life here is not bound by the hands of a clock. Balu Mahendra's camera takes us through a peaceful village, its trees, a serene stream and its inhabitants who are far removed from their counterparts in the city."
Sify says, "Karthik as the small boy has done a neat job and his bonding with his grandfather played by Balu Mahendra is the backbone of the film."
"Balu Mahendra has lived the role of the retired angry Tamil school teacher and his measured dialogue delivery is perfect. All the other supporting cast of television artists like Sashikumar, Ramya Shankar, Vinodhini are aptly cast. Director- actor M Sasikumar who has produced the film has done a impressive cameo in the climax."
Malathi Rangarajan of The Hindu says, "Returning to the art and craft of filmmaking after the Dhanush-Priya Mani starrer eight years ago, 'Adhu Oru Kanakkaalam,' Balu Mahendra proves that he's a technician who is in tune with the times. For a camera person to go the digital way after decades of working in the traditional format isn't easy. But Balu Mahendra accepts the challenge and has come out with some brilliant canvases on screen."
Verdict: If you wish to see good cinema, try "Thalaimuraigal"