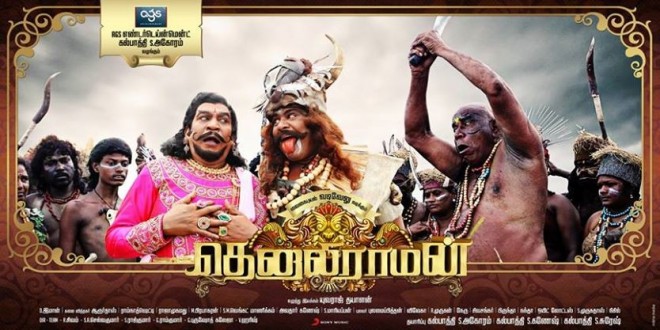 Vadivelu's "Tenaliraman" (aka "Jagajala Bhujabala Thenaliraman") has received mixed reviews from critics.
"Tenaliraman" is one of the most-awaited films of 2014 as it marks Vadivelu's return to the silver screen after a two-year hiatus.
Directed by Yuvaraj, "Tenaliraman" is a historical fiction comedy entertainer with Vadivelu appearing in dual roles - Maamannar (King) and Tenaliraman. There are eight selfish ministers in the kingdom, who are planning to earn big money by having trade with Chinese people. As a result, the local people might end up losing their jobs.
The honest minister in the kingdom gets killed and Tenaliraman, a revolutionist, replaces him and fills the spot. Soon, he finds out that the selfish ministers are causing trouble in the kingdom. What happens next forms the crux of the story.
Critics have appreciated Vadivelu's portrayal of two characters in the film. "In every scene, the comedian oozes with confidence, hitting the zenith with his vintage style. Instead of playing the scapegoat like most of his earlier movies, Vadivelu plays the role of a witty minister here as the scenes are carved with a lot of brainy comic elements. Both the roles are differently etched, and Vadivelu easily maintains the space between them," says Siddarth Srinivas of Cinemalead.
About the film's other cast members, Siddarth says, "Meenakshi Dixit as Vadivelu's love interest is fine, while looking good too. The rest of the cast fit the bill, out of which Mansoor Ali Khan's role does stand out."
Regarding the technical aspects, Sai Shyam of iflickz.com says, "Imman's songs are far from impressive. Although the movie is of periodic comedy genre, Imman could have come up with couple of hummable numbers. Most songs use heavy orchestration and are not soothing to ears. However, his background score does bring the necessary period feel to the movie."
"Camera work is adequate, while CG and art departments have done a wonderful job, given the budget of the film," he further said.
Although "Tenaliraman" has ace comedian Vadivelu in lead role, the film fails to provide enough laughs, according to critics. "If you are anticipating a Vadivelu laughathon, Tenaliraman comes as a downer as the film travels on a serious path most of the time with an occasional chuckle here and there. The spunk and wit that you associate with any of Vadivelu's products are found wanting here, perhaps because of the solemn nature of the premise," says Behindwoods Review Board.
Verdict: Watch it for Vadivelu's performance.
Photo credit: Facebook
(Ed: AJ)