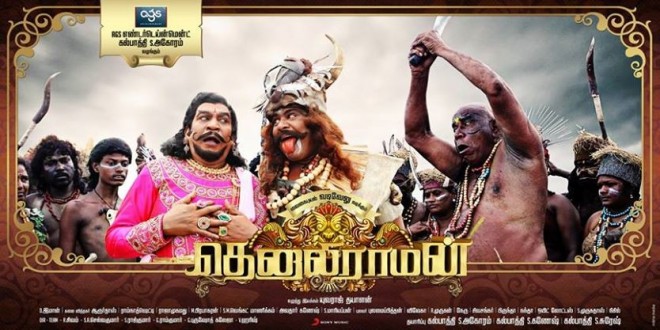 Ace comedian Vadivelu's comeback film "Tenaliraman" is all set for a big release on Friday (18 April).
Vadivelu, who took a brief hiatus for two years, is making his comeback to the silver screen with the historic comedy drama "Tenaliraman." The actor's return to the silver screen has raised the expectations among his fans.
"Tenaliraman" will have a big release not just in India, but also in overseas markets. The film will be releasing in 16 countries including the US, the UK, Singapore, Malaysia, Sri Lanka, according to Sify.
The film was initially slated to hit the screens on 14 April, but was pushed to 18 April to avoid clash with Vishal-Lakshmi Menon's "Naan Sigappu Manithan." The makers of both these films had a discussion and decided to release the films with a gap of one week in a bid to prevent the two big budget entertainers from eating into each other's business.
Directed by Yuvaraj, "Tenaliraman" will have Vadivelu appearing in a double role. The film also has Meenakshi Dixit, Manobala, Radha Ravi, Mansoor Ali Khan, Santhana Bharathi and Shanmugarajan in pivotal roles.
The historic comedy drama, reportedly made on a budget of ₹18 crore, is produced by AGS Entertainment. The Vadivelu starrer will not have a solo release and will be clashing with Vaibhav-Remya Nambeesan's "Damaal Dumeel," which is also set to hit the screens on the same day. Moreover, the film might be facing a tough fight from "Naan Sigappu Manithan" and "Maan Karate," which is already running successfully in theatres.
Despite competition from other films, "Tenaliraman" is expected to take a good opening on the first day of its release, as Vadivelu has a huge fan following.
The film is carrying positive pre-release buzz, thanks to the impressive first look posters and the trailer. The film has rich production values and the trailer indicates that the film will be a visual treat. While the Vadivelu starrer has generated of expectations, it remains to be seen if the film's content will be able to impress the audience and strike gold at the box office.
Getting positive feedback from critics and the audience is important as it will bring more audience to theatres. It will be interesting to see if "Tenaliraman" manages to fetch positive response and perform well at the box office.
Photo credit: Facebook
(Ed: AJ)