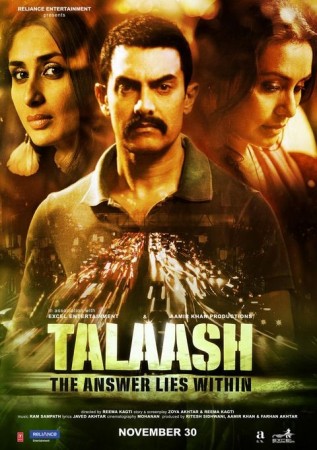 Aamir Khan has acted in almost all film genres - comedy, action, tragedy, romance and offbeat - but it took several years for audiences to see him in a murder mystery. Director Reema Kagti has made him portray a different kind of role in "Talaash".
Set in Mumbai's red light area, the night visuals make one wonder what lies ahead. The story of "Talaash" starts to unfurl with a speeding car breaking the silence of the night and driving straight into the sea. The victim is Armaan Kapoor (Vivaan Bhatena), a film star.
Now enters police inspector Surjan Singh Shekhawat (Aamir Khan), who is assigned to solve the tragedy of the high profile celebrity. He ends up in a brothel while investigating. There, he takes the help of Rosy (Kareena Kapoor), a prostitute has links with many people involved in the case.
On the home front, Shekhawat is facing another tragedy. Feeling guilty about the death of his son in an accident, he roams about at night, leaving his wife Roshni (Rani Mukherjee) lonely and depressed at home. He makes his wife deal with the tragedy of their son's death alone.
Aamir Khan played well the role of a troubled police officer, though his portrayal looked inconsistent at times. Having said that, he is the backbone of the film and has carried off his character flawlessly. Rani Mukherjee did a fine job in the deglamorous small role. Kareena Kapoor too did her part well as a sex worker, though she seemed to have overacted in a couple of scenes.
Director Reema Kagti accomplished half the job by setting an environment that hooks the viewers from the very beginning. The emotional quotient in the second half drags the film a little bit and the plots are somewhat predictable unlike the first half. Nevertheless, the director managed to make the film an enjoyable one.
In a nutshell, "Talaash" may not linger in one's mind long after watching it on big screen but will surely keep audiences engaged and entertained in their seats.
Producers: Ritesh Sidhwani, Aamir Khan, Farhan Akhtar
Director: Reema Kagti
Cast: Aamir Khan, Rani Mukherjee, Kareena Kapoor
Screenplay and Story: Reema Kagti, Zoya Akhtar
Musi: Ram Sampath
Cinematography: Mohanan
Editor: Anand Subaya