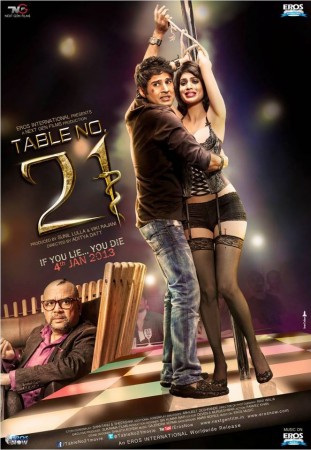 "Table No.21" is a Bollywood suspense thriller film starring Rajeev Khandelwal, Paresh Rawal and Tena Desae in the lead roles. The small-budget film received positive to mixed reviews from critics and is going well at the box office.
Check out what critics had to say about the film directed by Aditya Datt:
Taran Adarsh of Bollywood Hungama said: "A taut thriller demands that the spectator stay vigilant, is all eyes and ears as the story unfolds, becomes a participant while the mind games are being played by the characters on screen... TABLE NO. 21, directed by Aditya Datt, which sets the ball rolling in 2013, truly symbolizes a riveting thriller.
"Rajeev Khandelwal's choice of movies is worth applauding. The actor cannot be accused of getting repetitive since his choice of movies has been as diverse as chalk and cheese.
"On the whole, TABLE NO. 21 is a commendable movie-going experience. If you are an extremely choosy moviegoer who watches select first-rate films a year, make sure TABLE NO. 21 is included on your listing. Strongly recommended!"
Ananya Bhattacharya of Zee News said: "'Table No. 21' might just be director Aditya Datt's ticket to fame: fame of the pure, unadulterated kinds. His earlier outings as a director - 'Aashiq Banaya Aapne', 'Dil Diya Hai' and 'Good Luck!' - weren't able to make much of an impact on either the audience or critics. However, with this film, Datt has undone all of his earlier lukewarm ventures, one might say.
"The film has the elements of thrill - intense at the lower end of the spectrum and spine-chilling at the higher. It cleverly, beautifully builds up a story, goes forth strewing numerous hints during its course and all of them are marvellously tied together in the end. No loose end acts as an impediment in the script - and every single moment makes sense.
"In a nutshell, 'Table No. 21' might just be one film that is instrumental in turning the tables of the game around. In the Hindi film industry of the day, where a lot of mindless stuff is churned out under the guise of 'films' every year, Datt's thriller is one that is a welcome break. Go watch the film. It is worth every penny spent, worth every ounce of energy invested - and even more."
Ankur Pathak of Rediff.com said: "Table No. 21, the first genuine release of the centenary year of Hindi cinema is a psychological thriller that ends with a delectable twist, one which justifies the intent of the highly structured plot.
"It not only conveys a relevant message, but does so without being propagandist about it.
"On the whole, Table No. 21 should be watched for the reactive social commentary that it is, and should not be misconceived as a vigilante film."
Aniruddha Guha of DNA said: "Table No 21 is a reasonably decent effort. It's fairly well-shot (Ravi Walia), has good actors, and manages to hold your interest for the most part.
"The film has an interesting premise, and some very interesting sequences, a lot of which gets undone in the flashback sequences in the last 15-odd minutes of the film.
"Table No 21 may not be the perfect start to 2013 we were looking for, but it's a well-paced thriller with some highs and quite a few lows, and it's never boring. May be, I am being slightly generous - New Year and all that - but I'll suggest you check out Table No 21 for Paresh Rawal."
Roshni Devi of Koimoi.com said: "Table No. 21 tries hard to be a psychological thriller but ends up being a me-too, and then ruins things further with a social message type ending.
"Table No. 21 is a shameful waste of some really good actors where the makers sleepwalked through the entire film. Best to avoid this one."