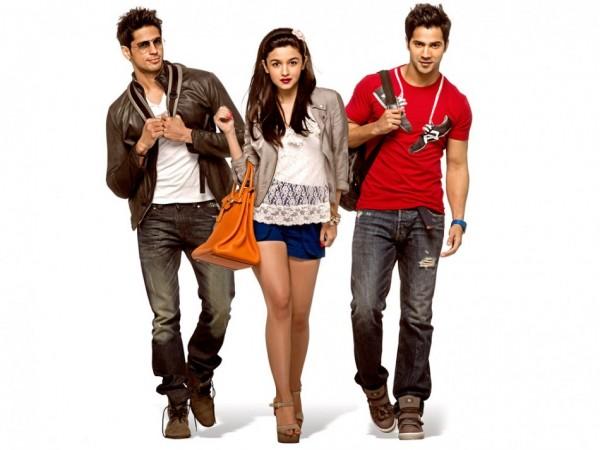 People are curious about "Student of the Year" for more reasons than one. It's Karan Johar's first film without Shah Rukh Khan in the cast and his fifth film as a director - his earlier films "Kuch Kuch Hota Hai", "Kabhi Khushi Kabhie Gham", "Kabhi Alvida Naa Kehna" and "My Name Is Khan" being big hits. Moreover, the lead actors of the film are newcomers. The good news is that it has got good reviews from the critics and Rishi Kapoor's gay role has stolen their hearts.
Here is what the critics have to say about "Student of the Year":
"This is Johar's "holiday movie"; intended to show you a good time. So you have Glee-style introductions to the three leads in snazzily choreographed set pieces, a soundtrack of bubblegum hits, crisply edited sporting sequences, and outrageous humor like a track involving the dean's crush on a strapping (and married) football coach," Rajeev Masand of CNN-IBN wrote.
"I'm going with three out of five for Karan Johar's Student of the Year. If fun is what you're seeking, you won't be disappointed," he concluded.
Anupama Chopra of Hindustan Times wrote: "Karan Johar's forte is excess. He creates fantastical worlds brimming with beautiful people and expensive things and yet anchors them in high emotion. His films work as both designer porn and soap opera. The pleasure you derive from his films is directly connected to your tolerance of candy floss. I've always been seduced. But the danger of candy floss is that it can quickly become vacuous and over-designed."
"Karan creates moments that are genuinely moving and humorous. His trump card is the wonderful Rishi Kapoor as the school's gay dean. Wearing flamboyant pink ties, he lusts after his sports coach. So the principal from a rival school remarks: Coach coach hota hai," she added.
Vinayak Chakravorty of India Today: "Strange, but you don't mind the film despite its unapologetic brainlessness. The key lies in Karan's storytelling. For all its pulp packaging, SOTY doesn't have a single dull moment. The greenhorn trio is a treat to watch too, primary reasons why you'll love the film. Karan also adds the right props to grab eyeballs- Rishi Kapoor's Dean Vashisht gets a gay spin and the veteran pulls it off with comical restraint."
Kanika Sikka of DNA: "A Harry Potter locale, Jaane Tu... Ya Jaane Na-style storytelling, the melodious styling of High School Musical, inspiration from Jo Jeeta Wohi Sikandar and the typical Johar drama, that's Student of the Year. Despite being an uncanny mix of all these characterstics, K Jo manages to hold your attention throughout the film."
"Karan Johar's direction is commendable, as always. Yet it fails to bring anything new to the movie. The entire film has K Jo's trademarks which makes it more or less like a combination of all his previous films," she added. "All in all, SOTY is not something you would want to miss if the surreal setting with bubble gum romance is your calling."
Madhureeta Mukherjee of Times of India: "The film is full of KJo-isms - it's larger-than-life, colourful, lavish, beautifully shot and directed. With medleys, dance, drama and everything good-looking (from cast to couches, dorms to discos)."
"If this one doesn't pump you up with nostalgia, it's time for you to go back to school already!" she concluded.
Directed by Karan Johar and produced by Dharma Productions and Red Chillies Entertainment, "Student of the Year" features newcomers Siddharth Malhotra, Alia Bhatt and Varun Dhawan in the lead roles and special appearance from Boman Irani, Kajol and Farah Khan.
It is a romantic comedy film revolving around three youngsters - two boys and a girl from different family backgrounds - turning friends. Both the boys admire the girl but only one gets her love. And all hell breaks loose during the Student of the Year competition of their college.