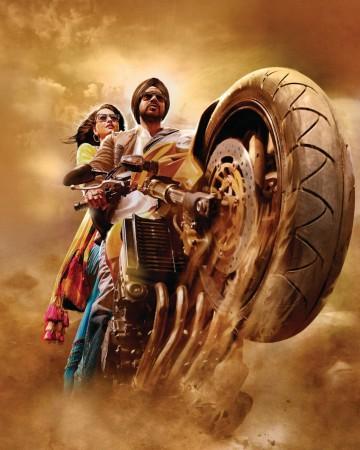 Actor-producer Ajay Devgn's latest offering "Son of Sardaar", which was released on Tuesday (Diwali), is expected to rock the box office but its overseas collection on the first day is not up to the expectations - blame it on its unconventional midweek release.
"Son of Sardaar", featuring Ajay Devgn, Sonakshi Sinha, Sanjay Dutt and Juhi Chawla, was released in about 2000 screens worldwide on Tuesday along with Shah Rukh Khan starrer "Jab Tak Hai Jaan".
"SOS" collected NZ$ 5,116 (Rs 2.30 lakhs) from 5 locations in New Zealand, A$ 55,125 (Rs 31.64 lakh) from 22 locations in Australia and £ 5,569 (Rs 4.86 lakh) from 16 locations in the United Kingdom, according to the tweets by trade analyst and film critic Taran Adarsh.
However, the domestic box office collection of the film is expected to be big.
"PLEASE NOTE: #JTHJ and #SOS *India numbers* will be updated soon. Due to Diwali festivities, will take some time to get the *est* numbers," tweeted trade analyst Taran Adarsh. "#JTHJ and #SOS Tuesday results in India: In mass circuits, #SOS is ahead. At multiplexes, #JTHJ takes a lead."
He went on to say that both "Jab Tak Hai Jaan" and "Son of Sardaar" will win at the box office.
Interestingly, the producers of "SOS" and "Jab Tak Hai Jaan" are fighting in real life too.
"SOS" producer Ajay Devgn has accused production house Yash Raj Films of monopolistic practices in promoting its film. He has approached the Appellate Tribunal after the Competition Commission of India (CCI) rejected his plea.
The Appellate Tribunal has ordered an enquiry into the allegation of Ajay Devgn but didn't stay the release of "Jab Tak Hai Jaan" as it could lead to irreparable financial loss.