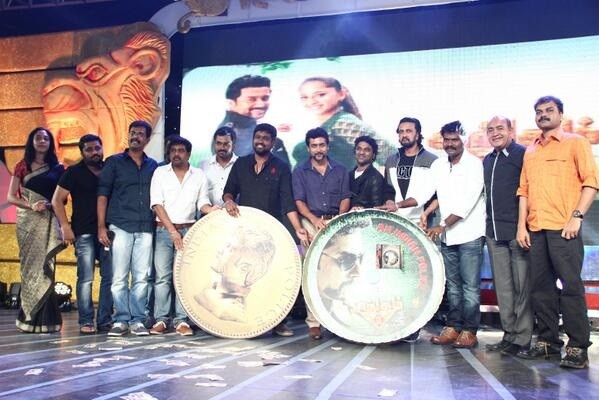 After the hugely successful "Singam", Suriya is back with a bang reprising the role of Durai Singam - an authentic Indian cop in "Singam 2."
If "Singam" witnessed Durai (Suriya) dealing with local criminal Mayil Vahanam (Prakash Raj), in Hari's "Singam 2" he expands his horizons and deals with international criminals.
"Singam 2" begins with a recap of its prequel, wherein Durai Singam is appointed as the Deputy Superintendent of Police, Tuticorin, and accepts a new mission from the Home Minister (Vijayakumar). He works undercover as an NCC commander to uncover a criminal network involved in a smuggling racket. He sets up an operation to nab international drug dealer Danny (Hollywood actor Danny Sapani) who supplies illegal drugs to local smugglers Bhai (Mukesh Rishi) and Thangarasu (Rahman).
How Durai Singam traps the international kingpin and seals his illegal drug business is shown as the film progresses.
Most of the original cast from "Singam" - Suriya, Anushka Shetty, Vivek, Radha Ravi, Vijayakumar and Nassar have returned to reprise their roles in "Singam 2."
New additions are - Santhanam, Hansika Motwani, Danny Sapani, Rahman and Mukesh Rishi. Santhanam and Vivek have two separate comedy tracks. Hansika Motwani dons the role of a student (Satya) in the school where Durai Singam works. Thangarasu, one of the two local smugglers, happens to be her uncle.
The film has won good reviews from film critics, who have termed it as a racy entertainer that has all the key elements of a commercial film. Here is what they have to say.
S. Saraswathi of Rediff.com says, "Suriya's charisma and director Hari Gopalakrishnan's brilliant screenplay make Tamil film Singam 2 a joyful experience."
"Predictably, the film has a lot of power-packed action sequences and the story races along with a tremendous pace keeping you engaged throughout. In spite of the number of characters in the film, the screenplay is extremely clear cut, with every role outlined beautifully."
"The only negative would be the length -- the movie runs for almost three hours. A slightly shorter version would have created a greater impact."
Heaping praises on the lead actor Suriya, Behindwoods Review Board says, "Suriya shoulders the film big time. The sincerity and dedication of this artist is something that needs to be lauded. Suriya with his dialogue delivery, eye expressions, body language and live energy has redefined screen presence."
About other cast members, the Behindwoods Review Board says, "Hansika is effective and her role is meaningful and integral to the plot. Anushka is charming and has screen space in the second half. Santhanam is an enjoyable addition to 'Singam 2' and his sequences livens up the proceedings."
According to Shekhar of Oneindia, "The first half of 'Singam 2' has fast-paced narration and is very interesting with comedy and action packed scenes. But this portion is quite lengthy as the director has forced too many aspects. The result is that every scene is suppressed and shortened to cut-short the duration."
According to Indiaglitz.com, "'Singam 2' is everything you would look for, love, masala, sentiment, raw action and so on, however adding a slight overdose to every single element mentioned, as a whole it almost topples over."
"Hari's justification to Duraisingam's character deserves a special mention as yet again this will also be a tribute to the cops, such is the power the role delivers. Suriya carries the octane energy from the first part intact and if the intro scene was viola unleashed, then the scene when he resumes DSP command is MASS undoubtedly."
Haricharan Pudipeddi of IANS says, "'Singam 2' is definitely bigger, but it never gets better in the process of entertaining its viewers. It has a storyline that could keep you hooked but what doesn't work in the favour of the film is the presence of too many characters and a weak screenplay."
Verdict: "Singam 2" is a racy entertainer; Watch it for Suriya