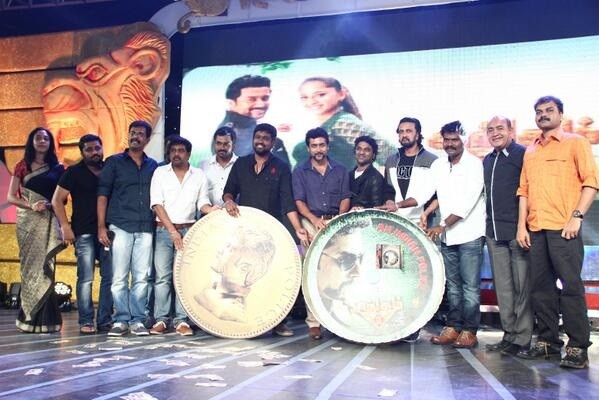 Suriya's "Singam 2" gets off to a roaring start at the domestic box office including in Tamil Nadu, Karnataka and Kerala.
The combined (TN, Kerala and Karnataka) first day collections of "Singam 2", which was released on 5 July, is around ₹8.15 crore. "#Singam2 - Roaring Opening in Tamil Nadu Karnataka and Kerala. Friday - July 5- Approximate Net = Rs 8.15 Cr. Very Good," senior journalist Sreedhar Pillai tweeted.
"Singam 2" received positive reviews from film critics, who have termed it is an action entertainer with all the key elements of a commercial film including high-octane action sequences, chases, punch dialogues, romance, comedy and songs. Suriya won appreciation for reprising the role of Durai Singam - a tough Indian cop who is on a mission to crack down a drug racket.
"Singam 2" had a solo big release worldwide in Tamil and Telugu. The Suriya-starrer was released in record number of screens including in 142 screens across Kerala, where the actor enjoys a massive fan following.
The action film was not released in key theatres in Chengalpattu, Ambattur, Kanchipuram and Avadi areas on Friday as the theatres refused to screen the film on minimum guarantee. "All these theaters refused 2 play on Minimum Guarantee (MG) or even pay deposits. All big films get MG, but now theaters r refusing," Sreedhar said.
"Tamil Exhibitors who have lost heavily in the past r no longer interested in paying MG or even giving deposits,only want 2 play on terms."
The theatre issue in Kanchipuram and Ambattur was later sorted out and the film was released on Friday evening. The first day response across theatres in the country was impressive, with the Suriya-starrer registering 100 percent occupancy in most of the theatres.
With no big releases in both Tamil and Telugu, "Singam 2" is likely to do good business at the domestic as well as overseas box office during the first weekend. Suriya's screen presence, racy first half and Santhanam's comedy could draw the crowd towards theatres for the next few days as well. There are no big Tamil films releasing in the coming week, which might help "Singam 2" to stay in the limelight for some more time.
Dhanush's "Mariyaan" is all set to hit theatres worldwide on 19 July. There is a solid two-week time ahead of its release. Suriya's "Singam" is expected to perform well during this two-week window.
The Telugu version titled "Singam -Yamudu 2" has also opened to good response. However, the release of the film did not affect the collections of Ravi Teja starrer "Balupu", which has raked in ₹15 crore in Andhra Pradesh during the first week.
The Hindi version of "Singam" will release on 12 July. It remins to be seen if the film would work in Bollywood, considering the first part ("Singam") which was remade in Hindi as "Singham" was a massive hit and fetched more than ₹100 crore worldwide.