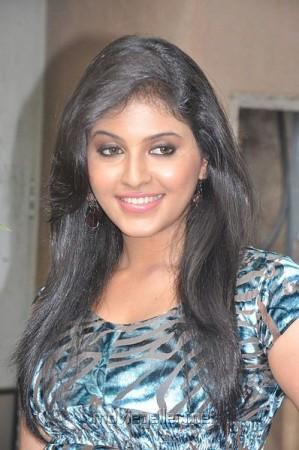 After filing a harassment complaint against her aunt Bharati Devi, Tamil actress Anjali has gone missing on Monday from a hotel in Hyderabad's Jubilee Hills where she was staying.
The actress was reported missing after her brother Ravi Shankar filed a complaint regarding the same at the Jubille Hills Police on Tuesday stating that her life was in danger.
Anjali went missing a day after she gave out a press statement on Monday in Chennai, stating that Bharathi Devi (who she introduced to everyone as her mother or step-mom) and director Mu Kalanjiyam were harassing her and swindling her of money.
Anjali said that if anything happened to her, then Kalanjiyam and Devi were to be blamed.
The actress, who acted in many Tamil and Telugu movies, could not be reached over her phone.
"Ravi Shanker came here in the evening, and informed us that his sister went missing from the Daspalla hotel in Jubillee Hills. He also said there was a threat to Anjali's life from Bharathi Devi," M Saidulu, sub-inspector, Jubillee Hills police station, told The New Indian Express.
The police have initiated a probe into the matter and as part of the investigation they will check out the CCTV camera footage of the hotel. "Investigation is on and we are looking for more clues," Saidulu said.
Meanwhile, director Kalanjiyam, who had launched her in Tamil movies, filed a petition seeking action against Anjali for trying to malign his name.
"I still can't understand why she would accuse me of harassment. She says I looted crores of her savings, but she is only earning lakhs," Devi said.
Anajli rose into fame with movies like "Engaeyum Eppothum" and "Angaadi Theru". She was also a part of the multi-starrer Telugu movie "Seethamma Vakitlo Sirimalle Chettu".