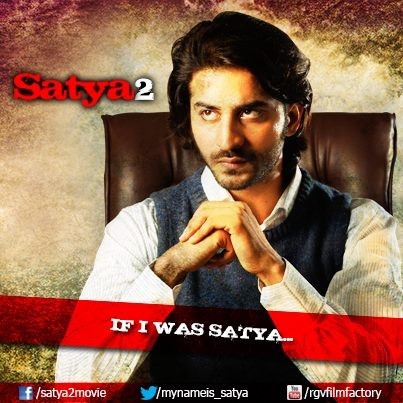 Ram Gopal Varma's directorial film "Satya 2" has failed to live up to critics' expectations. The action and crime thriller, a sequel to 1998 blockbuster film "Satya", has received negative reviews upon its release on Friday.
"Satya 2" features Puneet Singh Ratn, Anaika Soti, Aradhna Gupta, Mahesh Thakur and others. The film revolves around an immigrant who comes to Mumbai in hopes to change the underworld.
Check out the reviews here:
Taran Adarsh of Bollywood Hungama said: "SATYA-2 bears no resemblance to RGV's protégé Puri Jagannadh's Telugu film BUSINESSMAN, like a section of the media would like us to believe. The plot is different and RGV makes sure even the screenplay is way different from films of its ilk.
"Just when everyone thinks that the underworld is defunct, Satya [Puneet] arrives in Mumbai to reinvent it and re-establish the mafia. His motive is simple: He wants to be the undisputed don of Mumbai. To start with, Satya floats a company based on the mistakes committed by the earlier dons and executes his master plan. He eliminates three influential people to unleash terror: a leading industrialist, the Police Commissioner and a powerful media baron. What happens next?
"Having said that, I'd like to add that SATYA-2 has several nail-biting episodes that keep you completely hooked. Also, to give the credit where it's due, the writer does not suffer from SATYA hangover, which is a plus. The scenes are innovative, the screenplay is entrancing for most parts and the sequence of events keeps you drawn to the on-screen proceedings. The background score is effectual, while the cinematography captures the tension adroitly.
"On the whole, SATYA-2 may not be RGV's best, but there's no denying that it has the right elements that make a quintessential gangster film."
Paloma Sharma of Rediff.com said: "It is hard to believe that RGV chose to make a sequel to his most iconic creation as both the films, Satya and Satya 2 have nothing in common.
"In memory of the miracle that happened 15 years ago, in 1998, RGV has probably named his new film Satya 2 for good luck; because Satya and Satya 2 had nothing in common but for the fact in both films a stranger known only as Satya arrives in the city and begins to make his place in the underworld.
"Ram Gopal Verma attempts to make a film about the underworld but at points he turns it into a Yash Raj production where the hero and heroine are dancing with Kashmir/idyllic village in the backdrop.
"It is a little hard to believe that this is the film that RGV chose to be a sequel to his most iconic creation. All I can say is that Satya 2 is as bad as Satya was good."
Saibal Chatterjee of NDTV said: "Satya defined a Bollywood genre and earned instant cult following. Fifteen years on, Satya 2 defies all logic. Pretty much like he had done with his ill-advised remake of Ramesh Sippy's Sholay, Ram Gopal Varma unabashedly trivialises an idea that had worked famously the first time around, Satya, the ultimate guns-and-gangs sage, was clearly in no need of re-interpretation. So, what on earth was RGV thinking?
"For all its obvious warts, Satya 2 may not be as insufferable as RGV Ki Aag, but it comes quite close to being a total creative disaster.
"Satya 2 is too hackneyed and heavy-handed to be entertaining. The cast is led by Bollywood first timers who have light years to go before they can be deemed fit for the onerous task of carrying a two-and-a-half hour film on their shoulders.
"Puneet Singh Ratn sports designer attire but has an unkempt look. He wears a permanent grimace and spouts his lame lines with studied gruffness. He arouses neither fear nor awe. The lead actress, Anaika Soti, has little to do besides dancing in slow-mo musical set pieces and exhibiting her assets. They do not quite add up.
"Run for cover and give Satya 2 a miss. It is a whimper for there is no bang in the Satya buck anymore."
Madhureeta Mukherjee of The Times of India said: "If you like your 'truth' bloodied, here it goes. This time RGV's newly packaged don is of a different breed, but barely matches the ballsy bhaigiri of the original. Cut back fifteen years - when Ramu on creative Viagra, ripped open Mumbai's ominous crime diaries for cinematic consumption. Tossing us into a dark, sinister world of lawless bhais, bhaus, gangstas and guns. Ever since, he's flaunted his obsession for the inglorious D's and their doomed destinies.
"The film reiterates, "Company ek 'soch' hai." We wish RGV had put in some soch into this. Truth be told, iss film ko goli maaro, and for the sake of nostalgia, watch the original, for posterity."