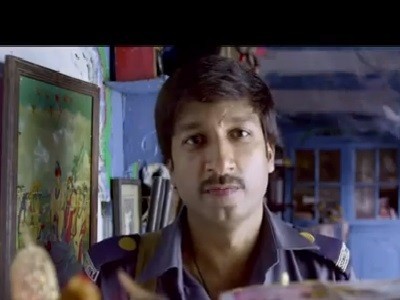 Gopichand's much-awaited "Sahasam (Bravery)" has bagged mixed reviews from critics who have termed it as an action-adventure film that lacks gripping screenplay but scores on the narration style.
Gopichand has teamed up with director Chandresekhar Yeleti after their last outing "Okkadunnadu" in 2007. "Okkadunnadu" belonged to the action genre, whereas the actor's latest release "Sahasam" is an action -adventure flick that involves a treasure hunt.
Gautham (Gopichand) is a security guard who is desperate to make quick bucks and keeps buying lottery tickets to become rich. One night, Gautham finds out that his grandfather was once a prosperous diamond merchant who has stashed some diamonds in an ancient temple in Pakistan before partition happened.
Gautham sets on a treasure hunt to acquire his family's property. He joins Srinidhi (Tapsee), a staunch devotee who believes that the world is going to end in three years and wants to visit all the Hindu shrines across the globe. Srinidhi's main goal is to visit a Hindu temple which is located in Hinglaj, Pakistan. Gautham's treasure is stashed somewhere near the temple and he travels with Srinidhi posing as a devotee.
After arriving at the temple, Gautam faces trouble in the form of Sultan (Shakti Kapoor), who takes over Pakistan's archeology department's team in search of the treasure. Whether Gautham retrieves the lost treasure is shown as the film progresses towards the end.
The climax scene runs for 30 minutes and involves some special effects. The film crew has shot in Ladakh to re-create the Peshawar-Afghanistan border.
Gopichand returns on screen after a span of nearly two years when his last film "Mogudu" was released in 2011. Expectations are high for the film as it is deemed as an action-adventure flick that the Telugu film industry has not witnessed for quite some time.
Here is what the critics have to say
Karthik Pasupulate of The Times of India says, "The filmmaker has done a pretty good job of putting it together without resorting to the usual vanities of Tollywood - forced comedy tracks, songs and the likes."
"It's a tight screenplay, but it's the cinematography is the stand out element though.The mountainous landscape of Ladakh (which is masqueraded as Pakistan) offers a beautiful setting for the plot to unravel."
S Viswanath, from Deccan Herald, says, "Inspired by Hollywood sagas like Indiana Jones, Yeleti gives Tollywood audiences a delectable desi flavour with all-round technical finesse. Though Sahasam does not match up to the scale, scope and mastery of Hollywood, Yeleti's yen for treading a different trail deserves kudos. However, one should not expect too much from the film."
On the performance front, Jeevi of Idlebrain.com says, "It's a refreshing role for Gopichand. It's a role that suits him and yet look very different. Gopichand performed with ease and justified the multidimensional character well."
"Tapsee who has done many modern glamorous roles has done a decent role of an ardent devotee. Shakti Kapoor is good as villain. His serious comedy timing in climax episodes worked well. Ali has done a comedian role of an escort to hero and heroine in Pakistan. Srimannarayana has done a small yet comedy-generating role."
On the technical aspects, Indiaglitz.com says, "The cinematographer [Shyam Dutt] has ably captured the locales and Yeleti doubtless relied on the ambience to lend authenticity to his film. It is visually strong and the make-up work is fine. The songs are forgettable and the BG score is ok."
Verdict: Definitely worth a watch action-adventure flick. But, see it without big expectations.