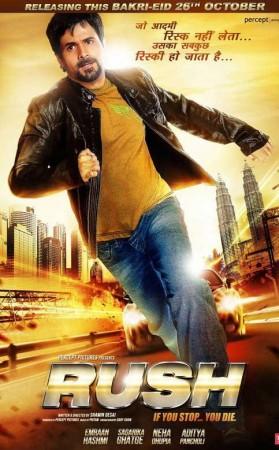 Many Bollywood critics have opined that "Rush" appears to be an extension of Ram Gopal Varma's 2010 "Rann."
Emraan Hashmi's latest offering deals with the cutthroat world of journalism and has an ambitious young man on the lookout for opportunities all the time. Reviewers have appreciated Hashmi's portrayal and suggested that his performance has helped the movie to balance its weak areas.
The film is directed by Shamin Desai and has Neha Dhupia, Sagarika Ghatge in pivotal roles besides Hashmi.
Here's what critics had to say about "Rush":
Rohit Vats of CNN IBN wrote, "The basic storyline revolves around a hot-shot crime reporter who is not ready to be a part of the endorsement game. Emraan Hashmi has got the right body language and his use of media terminology is also fine. However, the story in which his character is placed has some flaws. The narrative strategy is simple and the director proceeds with a linear structure."
"The formula is pretty simple. Take a hero with a cynical image, put some raunchy scenes, concentrate on speed, and give a false notion of relevancy," he added.
"Though Shamin Desai can be criticised for not granting enough time for emotional moments to unfold but the tempo is the thing which keeps the spectators interested in the film. 'Rush' would have been lacklustre in absence of this much pace," Vats concluded. "One can watch 'Rush' for Emraan Hashmi and cinematography, but then it also depends on your mood at a particular time."
Taran Adarsh of Bollywood Hungama said, "'Rush' could've transformed into an invigorating tale, eye-catching, soul-piercing take on ambition, aspiration and salvation, but it meanders into the predictable zone after a great start, giving you the feeling of déjà vu on several occasions. The writing is markedly foreseeable, with the screenwriter opting for the predictable stuff. However, a few individualistic sequences do stand out, but they are few and far between."
Commenting on the acting front, he wrote, "Emraan goes all out to deliver a fine performance. Enacting the role of a crime journalist, the actor looks perfect for this part and the character is relatable as well. Neha looks sensuous, seductive and handles her part most convincingly. It's good to see a talent like Aditya Pancholi on the big screen after a hiatus. But how one wishes his role had meat. Sagarika Ghatge doesn't get scope."
"On the whole, 'Rush' looks like a rushed job. It could've been an interesting take on ambition and aspiration, but it comes across as a half-baked product," he concluded.
Subhash K Jha of IANS writing for DNA opined that Emraan spoke more than just kissing in the film. "Emraan, as the backbone of plot, performs decently. He has more speaking lines and less kissing to do here than in all his recent films. Whether the verbosity actually translates into something substantial or not is debatable," the critic wrote.
"'Rush' has the bone though not enough meat to make for a juicy fare on the excesses of television journalism. It leaves you wondering what director Shamin Desai would have done with his filmmaking career had he lived," Jha concluded.
Rohit Khilnani, in his review of Rush for Rediff.com, said that filmmakers dealing with the hard-core journalism failed to get the facts right. "In Rush, cops walk into a news channel office and get hold of a reporter in the canteen and abuse him because he refuses to give them the information of a sharpshooter who he recently interviewed. Have we ever heard of police walking into news channels and abusing and insulting reporters?," he questioned.
Writing on the performances of the cast, he said, "Emraan Hashmi plays his part with honesty but it doesn't look like his contribution will save this film. Neha Dhupia looks pretty and does her bit.The rest of the actors are wasted."
"We cannot recommend Rush," Khilnani concluded.