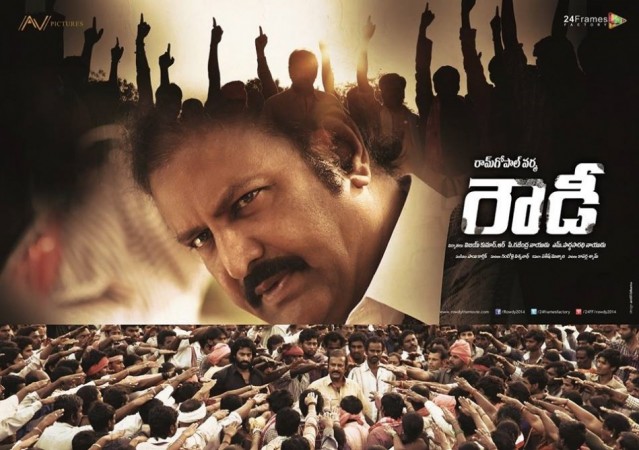 Mohan Babu-Vishnu Manchu's "Rowdy" has received mixed reviews from critics.
Directed by Ram Gopal Varma, "Rowdy" is set in the background of faction ridden region of Rayalaseema in Andhra Pradesh.
"Rowdy" has Mohan Babu, Vishnu Manchu, Shanvi Srivastava, Jayasudha, Kishore and Tanikella Bharani in pivotal roles.
The film's story: Anna (Mohan Babu) is powerful and respected leader in Rayalaseema. He defies law and is the one who has the authority to take decisions in the region. He fights for the well being of his people.
Anna has two sons Bhushan (Kishore) and Krishna (Vishnu Manchu). While Bhushan is arrogant, Krishna is obedient to his father.
The film revolves around Nandavaram project, which a team of businessmen (Tanikella, Vishwanath, Jeeva) along with a politician are planning to begin in that area. However, Anna is opposed to the idea of the Nandavaram project coming up at his place as it might affect the local people.
The antagonists who are interested in the project plan to kill Anna. What happens next? Will Anna be able to survive? All these form the crux of the story.
"Rowdy" has received decent feedback from critics mainly for film's slick narration and the performances of the cast members.
"Mohan Babu as Anna carried off the film on his shoulders. His persona, mannerisms catch your eye. One could watch Mohan Babu's finest performance in Rowdy and it recalls you the performance of World's greatest actor Marlon Brando (Vito Corleone) of The "God Father." It is not exaggerated to say his acting is on par with national-award winning performance. Ram Gopal Varma brilliantly extracted acting prowess of Mohan Babu," says Gulte.
"Vishnu's performance in "Rowdy" is a befitting answer to his critics. No doubt, Vishnu excelled as an actor and gone to next-level with 'Rowdy'," according to the website.
On the flip side, it seems that the film's cinematography is a put off in certain portions. Critics say that the film might not appeal to B and C centres as it does not have any entertainment quotient.
"The film's appeal may be limited in B and C centers as elements like comedy and mass masala do not have a place in the movie," according to 123telugu.
"Rowdy' is an unofficial remake of Amitabh Bachchan's 'Sarkar' as the makers claimed its an original script. Someone who have watched the original mayn't like the film so much but 'Rowdy' deserves a watch for Mohan Babu's brilliance. This is surely the best outing from RGV after 'Rakta Charithra - 1′," says AP Today website.
Verdict: Watch "Rowdy" for Mohan Babu.
(Edited by Anu James)