"Rowdy Rathore", had a good opening at the box office collections in spite of getting mixed reviews from the film critics. Here is what the film crictics have to say about the film: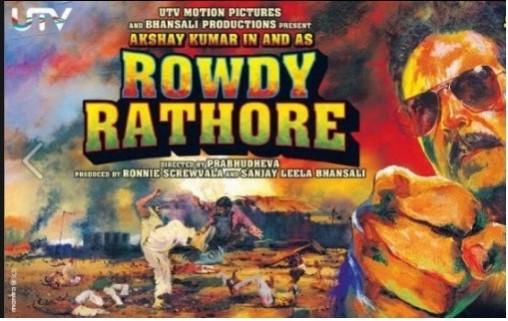 Taran Adarsh: On the whole, "ROWDY RATHORE" is designed to magnetize the masses in hordes. The accurate blend of action, emotions, drama and humor, besides a superlative performance by Akshay Kumar, makes this motion picture an immensely pleasurable and delightful movie watching experience. If you savor typical masaledaar fares, this one should be on your have-to-watch listing for certain. "Dhamaal" entertainer!
Rajeev Masand: At 2 hours and 20 minutes, "Rowdy Rathore" is excruciatingly long. The one-liners have little impact and make no sense, and the action has a been-there-seen-that feel to it. A few jokes work because Akshay Kumar does goofy well, but this film doesn't have half the energy of Prabhudeva's last directorial outing in Hindi, the Salman Khan starrer Wanted.
Aside from a few moments of inspired lunacy from the film's leading man - who can do this part in his sleep (and probably did!) - "Rowdy Rathore" comes off as nothing more than a cheap attempt to rob moviegoers of their money! I'd have bet Sanjay Leela Bhansali has no idea what he's produced, except that the film's outtakes reveal that he did in fact visit the set, and hence more than likely knew exactly what film he was making!

NDTV: The thing about a film like "Rowdy Rathore" is that it lets the viewer stay a step ahead of the action, which is a perfect recipe for an instant connect with the masses.
Riddled with an array of loud, lame and specious contrivances, "Rowdy Rathore" plays out pretty much like a comic-book fantasy rendered in the form of a live-action film. Go for it if you must, but don't expect the earth from it.
India Today: "Rowdy Rathore" is the sort of film that assumes you would be game to chuck all logic. It is a celebration of kitsch that pummels home a mad, bad tamasha for the lowest common denominator, quite often bordering on the crass. The package is sleekly filmed, cut and served - in fact, Prabhu Deva's technical team deserves more seeties than his star cast.
Times of India: Akshay Kumar is charming as Rowdy and commanding as Rathore. He also pulls off the action convincingly. But there is much more to the actor's potential that the script fails to tap. Sonakshi Sinha plays the quintessential heroine whose biggest task is to put her midriff to display. Nasser as the excessively unkempt villain is expected to ham. Supreeth Reddy as the snarling baddie is too animated. Mushtaq Khan replaces the likes of Harish Patel and Ashok Saraf in playing the villain's comic sidekick. Paresh Ganatra, Yashpal Sharma and Gurdeep Kohli are functional. Akshay Kumar's dancing chemistry with South star Vijay and Prabhu Dheva in the theme track is more appealing than Kareena Kapoor's 10-second appearance.
"Rowdy Rathore" lives up to its name in creating too much noise for no reason. It also marks the end of a sensibility called Sanjay Leela Bhansali.
Hindustan Times: Is this entertaining? Not for me. There were a few fun moments. For instance, Shiva is such a smooth thief that he casually steals cell phones even as people are still talking on them. But these are few and far between. Mostly, "Rowdy Rathore" alternates between ugly violence and crude comedy or rude romance.
The film is one more in the line of movies - many of which are remakes from the south - that value masala above all else. But Dabangg and even Wanted, the latter of which was also directed by Prabhu Deva, were far more cohesive and compelling. "Rowdy Rathore" is pure noise. Only the brave should venture in.
DNA: "Rowdy Rathore" is Akshay's return to action. And how! The actor takes charge of the film from the first scene and holds it tight all through. To put it simply, the film is to Akshay what "Wanted" was for Salman! Akshay is in top form and shows that he's still the king when it comes to action. One of Akshay's best so far, he surprisingly shows considerable restrain from going OTT in his performance despite the OTT nature of the film and easily excels in both the rakish and the serious twin roles. His scenes with the child actor are endearing too. Sonakshi is easy on the eyes. The baddie brigade is impressive and so are the supporting actors. Dialogues stick to the basic nature of the film and so does the music. There are no doubt several loopholes in the story that will be enough to dent the interest of an 'intellectual cinema-lover' (like it's impossible to fathom a pretty looking cop (Gurdeep Kohli) in a village full of gundas without catching their eye even once) but Prabhudheva manages to take a 'film lover' skimming over the surface itself. He proves that "Wanted" was no flash in the pan and he has what it takes to be a masala churner! Overall, it's a full on rowdy entertainer and a treat for all Akshay and action fans. So go for it!
"Rowdy Rathore" is the latest offering by choreographer-turned-director Prabhu Deva and features Akshay Kumar and Sonakshi Sinha in the lead roles. Akshay plays double role in this movie, which is a remake of super-hit Telugu movie, "Vikramarkudu".