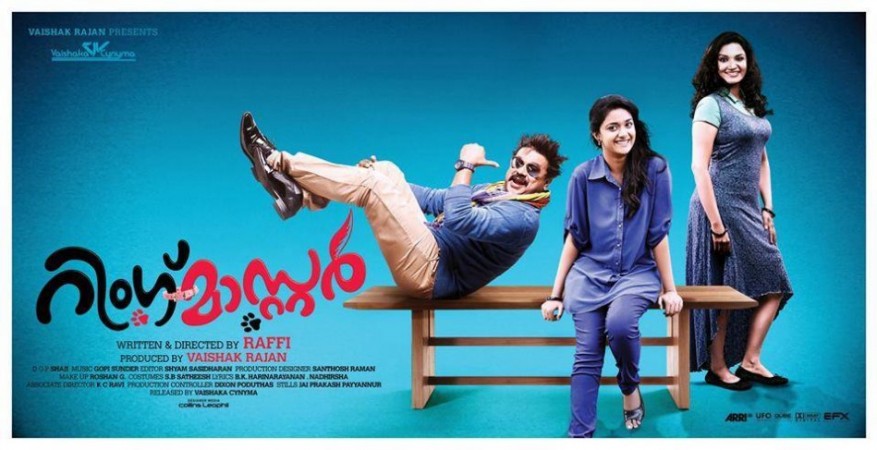 Dileep's "Ring Master" has received positive reviews from critics, who have termed it as a fun-filled comedy entertainer.
Directed by Raffi, "Ring Master" story revolves around the bonding between Prince (Dileep) and a dog. Prince, a dog trainer who worked at a circus, is out of job after the government bans the circus from using animals. He assists his friend Muthu (Kalabhavan Shajon), a veterinarian, in taking care of dogs.
On Muthu's insistence, Prince decides to take care of Lisa, the pet dog of NRI Elizabeth (Ranjini), who is going abroad. She warns Prince not to let the dog be friendly with male dogs. However, Lisa takes to Tobby, a guide dog that belongs to blind girl Karthika (Keerthi Menaka) in the neighbourhood. Lisa becomes pregnant and dies after delivering a female puppy. From then on, there are a lot of twists and turns in the film.
Critics have given positive feedback for "Ring Master and have called it a clean entertainer. They have also heaped praise on Dileep's comic timing in the film.
Here is the review roundup of "Ring Master".
Sify says, "Ring Master may defy logic at times but is a laugh riot that is genuinely entertaining. If you are looking for a good laugh at the theatres, this one could be a fine option this holiday season. Watch this one."
According to Manorama Online, "Some of the slapstick do really pull down the standards but the kind of treatment it has been given, it does not at all affect the entertainment prospects, on the whole. The excellent performance of characters in all the departments of emoting, especially comedy, led by Dileep, and effectively supported by Kalabhavan Shajon, Suraj Venjaramood, Unda Pakru, Saju Kodiyan and so on."
"Besides, there has been an army of actors who have effectively manned the major spots to keep the film buoyant from the beginning to end. Almost all the characters have played their part well."
Aswin J Kumar of the Times of India says, "Rafi's story does hold moments of appeal. However most often it is drowned in shoddy witticism, comic acts that are vainly stretched to bring in hilarity. Often the sequences, which are supposed to declare the melting love between man and animal, turn into drab acts of satire where in viewers feel confused whether the lead actor is genuinely in love with the animal or he is trying to mock at those who would weep for a dog."
Verdict: Enjoyable summer treat for children
Photo Credit: Official Facebook Page of Actor Dileep