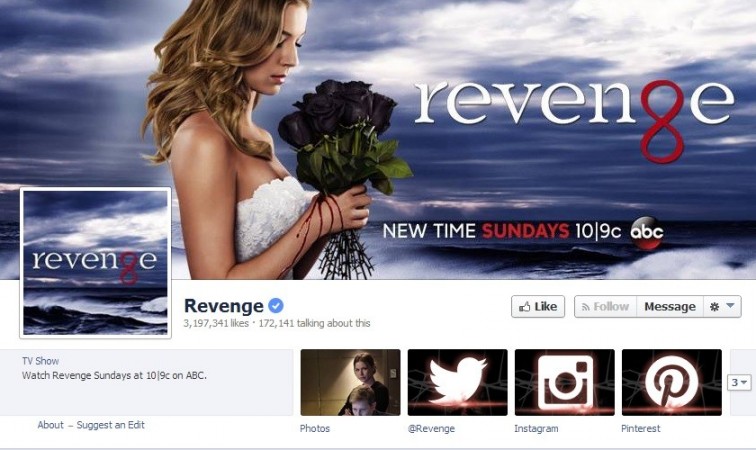 Season three of "Revenge" is coming to a close, and with an episode titled "Execution" fans are left wondering which lead character will die in the upcoming episode.
Photos of the episode show Emily (Emily VanCamp) and Victoria (Madeleine Stowe) facing off near a graveyard and speculations are rife that one of these characters will die before the end of season three.
The official synopsis of the episode confirms that lives will be lost as Emily goes off to avenge her father. Both Emily and Victoria and hell-bent on destroying each other, but it is not immediately known who will be victorious.
"I was standing next to [Emily VanCamp] when she was sobbing over that passing, and I promise it will be surprising and impactful and alter the journey of all the characters on the show," executive producer of the series Sunil Nayar told TV Guide.
"It's going to be a totally different show next season — a reincarnation," Nayar added.
Sunday's episode revealed Aiden and Emily as the people behind Charlotte's kidnapping. Emily wanted to use Charlotte to get Conrad and Victoria to confess about the bombing of Flight 197 and David Clarke's innocence. And she finally manages to do it when Charlotte goes back and accuses him of ruining many lives after Emily shows her footages of all the evils that her parents had committed.
Next on the list is Victoria, but there are speculations that she might not be the one on the chopping block. A Twitter user feels it can be Aiden, Daniel or Conrad.
Check out the tweets below.
If Victoria goes, Em can't get her for being involved in framing her dad & Charlotte's her sis who may even help her now so neither can go.

— #Happy25thBreezy!!!! (@MrsBrown_11) May 5, 2014
Em & Jack are meant to be together & Nolan is the tech genius Em needs 2 save her ass when things go wrong so they can't go either! — #Happy25thBreezy!!!! (@MrsBrown_11) May 5, 2014
That leaves Aiden, Daniel, & Conrad! Danny's been causing a lot of hell lately so who's NOT 2 say his dirty work finally caught up with him?

— #Happy25thBreezy!!!! (@MrsBrown_11) May 5, 2014
Aiden's important BUT he & Emily are OVER 4 good & Conrad was already caught so he can go & Victoria can take the fall 4 EVERYTHING!!!!!!!! — #Happy25thBreezy!!!! (@MrsBrown_11) May 5, 2014.
The finale will air May 11 on ABC.
[ED:VS]