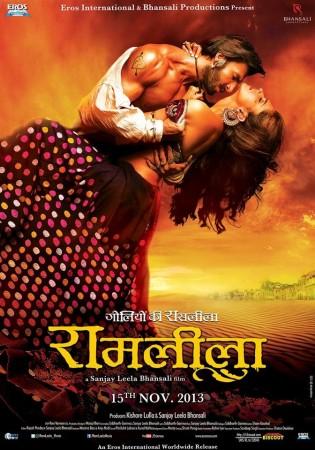 The first song of Sanjay Leela Bhansali's upcoming film "Ram Leela" has been unveiled featuring Ranveer Singh showing off some wacky moves against the backdrop of a colourful setting.
The song, titled "Tattad Tattad" or "Ram Ji Ki Chaal", has Ranveer as the village hunk who all the belles fall for.
The song begins with the actor strutting stylishly in his custom-made ride and then showcasing his dance moves. While it is entertaining to watch the him belt out spontaneous steps with equally fetching facial expressions, the song promises to be just an average track.
The most striking aspect of the song is the vibrant and spruced-up settings accentuated by the colourful dancers. Since the film's leading lady Deepika Padukone is missing from the song, the spotlight is on the film's hero Ranveer.
The song is a perfect show of Bhansali's exemplary work as manages to create an ideal hero in Ranveer with a well-chiseled body and a handlebar moustache for the rustic element.
Also, it can be pointed that the "Ram Ji Ki Chaal" song is an ode to Bhansali's once favourite actor Salman Khan, with the song's loud setting, the nonsensical dance moves and Ranveer's obvious shirtless act akin to Salman's own.
The groovy track has been voiced by Aditya Narayan and is composed by Bhansali and Monty Sharama.
Meanwhile, the film has landed in another set of legal troubles following a Public Linterest Litigation (PIL) that was filed in Allahabad Court demanding a ban on the film. The PIL stated the film's title hurt Hindu sentiments since the term "Ram Leela' is associated with a holy event.
Previously, an FIR was filed in Jaipur against the film's team for attempting to incite religious disparity by portraying violence between different groups.
Check out the new song from "Ram Leela" here.